CNS Goes Into Cleanup Mode for Trump's State Dept.
Topic: CNSNews.com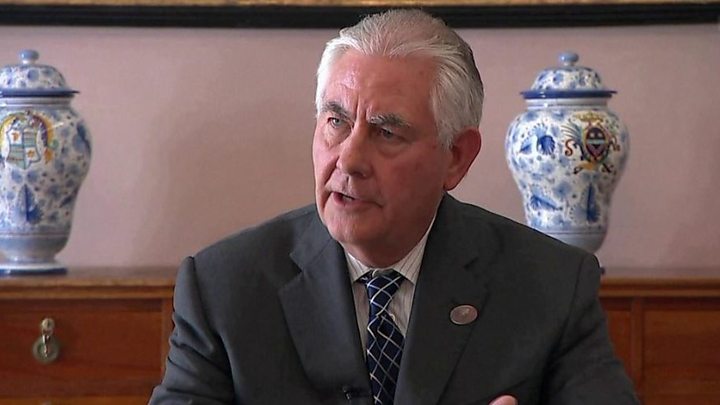 President Trump's State Department and diplomacy efforts hit a bit of a rough patch last week -- which means it was up to the Trump stenographers at CNSNews.com to put its best spin on things.
After the U.S. voted against a United Nations resolution opposing the death penalty for crimes, including alleged offenses of homosexuality, CNS Patrick Goodenough rushed into action with an Oct. 4 article serving up State Department spin that the U.S. voted agianst it "not because it condemned capital punishment for homosexuality, but because the text included calls for the abolition of the death penalty altogether." Goodenough then added that "Countries where the death penalty for homosexuality is applied or codified in law are all Islamic."
Then, after a story broke that Secretary of State Rex Tillerson reportedly clashed with the White House and disparaged Trump, CNS' Melanie Arter went into damage-control mode with an article uncritically detailing how Tillerson "disputed a news report that claimed he considered resigning from his post over the summer and refused to address what he called 'petty nonsense,' when questioned on whether it was true that he called President Donald Trump 'a moron.'"
The next day, Goodenough returned for more stenography, this time from State Department spokesperson (and former Fox News anchor) Heather Nauert:
Secretary of State Rex Tillerson cares more about promoting America's foreign policy goals than about the television cameras, State Department spokeswoman Heather Nauert said Wednesday.

In giving a spirited defense of her boss in the face of press reports claiming Tillerson considered resigning over the summer, Nauert suggested that some predecessors had not been so averse to media coverage.

"He's not the kind of person who's going to just show up in front of every television camera," she told reporters. "Some have done that in the past. The secretary doesn't find that necessarily to be effective."

[...]

"He's not someone who's ever going to love being in front of the television cameras," Nauert said later. "He is not a politician. He isn't. And some people just don't seem to get that just yet."

"I'm okay with that," she said. "I'm okay standing behind a man, working for a man who wants to keep his nose to the grindstone, wants to promote U.S. foreign policy goals, and cares first and foremost about that and less about television cameras."
Through its pro-Trump stenography, CNS is proving to be as loyal to the Trump administration as Nauert is.
Posted by Terry K. at 5:32 PM EDT