WND's Farah Offers His Usual Load of Hooey To A Reporter
Topic: WorldNetDaily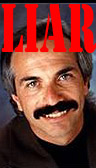 WorldNetDaily editor Joseph Farah began his Oct. 2 column in his usual tone, mocking the feminist website Jezebel by invoking the biblical Jezebel with "her penchant for child sacrifice, the elevation of pagan gods and the way she lured King Ahab into spiritual corruption and murder." However, he then devoted the rest of his column to the answers he gave to questions about WND from a Jezebel writer.
Unfortunately, Farah served up the same self-aggrandizing hooey he has for years. First up:
First question: "What was the impetus behind founding WorldNetDaily? Was it conceived of as a right-wing site, or an answer to more liberal-leaning sites?"

Answer: "After 20 years doing everything one could possibly do in 'mainstream journalism,' as you might call it, I started the first independent online news service, WorldNetDaily, 20 years ago. The purpose was to do what I had been doing for the previous 20 years – journalism that provided a career that permitted me to rise to the top of my industry and get opportunities to run daily newspapers in major markets (IN CALIFORNIA!) I have never thought of myself or described myself as 'right-wing' or even 'conservative.' (Neither has WND ever self-described with those terms.) The idea for WND was to return to what had once been the "central role of a free press," serving as a watchdog on government and other powerful institutions. It was also to be reflective of a Judeo-Christian worldview. Nothing has changed in 20 years except the drift of the culture away from those very 'mainstream' principles."
Just because neither Farah nor WND "self-describe" as conservative or right-wing doesn't mean they aren't. Farah was a right-wing activist editor at the Sacramento Union in the early 1990s, later forming the right-wing Western Journalism Center, which under his leadership mostly attacked President Clinton. WND was formed in 1997 as an offshoot of the WJC, and its real original purpose -- not Farah's bogus declared mission -- was to attack the Clinton administration.
Next question:
Second question: "What do you make of the accusation that the site publishes 'conspiracy theories,' like suggesting Barack Obama wasn't born in the United States? Do you want to respond to some of the Southern Poverty Law Center's criticisms of your work?"

Answer: "WND has been accused of publishing 'conspiracy theories,' but, in all cases, I've noticed those accusations fall into two categories – a) WND is accused of promoting conspiracies by simply asking questions and pursuing answers (Obama's failure to demonstrate constitutional eligibility, for instance. Obama and Michelle are the ones who stated, not suggested, he was not born in the U.S., not me); and b) the publishing of opinions by some of our columnists and commentary contributors ('soy makes you gay,' for instance); One thing you have to understand about WND is that it, among all publications I know about, publishes the broadest spectrum of opinion from left to right. No one seems to notice this."
Farah is, of course, lying when he says WND was "simply asking questions and pursuing answers" about birther conspiracies. A presentation to an Arizona tea-party group by birther WND reporter Jerome Corsi set in motion Joe Arpaio's laughably incompetent investigation of the issue -- something that presentation was apparently intended to do -- and WND worked behind the scenes to manufacture pro-birther affidavits and feed birther conspiracies to Donald Trump. If WND really was interesting in "pursuing answers," it wouldn't have utterly ignored the repeated debunkings of birther conspiracies.
As for Farah's "broadest spectrum" of columnsts, only two of WND's regularly appearing three dozen or so columnists (Ellen Ratner and Bill Press) are genuinely liberal; the rest are various shades of conservative, right-wing and conservative Christian. Not much of a spectrum.
Next:
Third question: "What's your feeling about the new discussion around 'fake news'? Does this seem like a new phenomenon to you? Have you been aware of the rise of hyper-partisan news sites, as well as sites that publish explicitly false news?"

Answer: "Hyper-partisan news is a great American tradition. It began when America had competing newspapers in most markets. It exploded when the Internet came along and lowered the bar to entry into the media world. I deplore fake news, which is a real phenomenon in what you would call 'mainstream' sources like CNN, the New York Times and the Washington Post, as well as it is in the new media. It's sad because it detracts from media that diligently stick to the old rules of journalism on sourcing, seeking out countervailing viewpoints, etc."
How funny -- WND has a long history of refusing to seek out countervailing viewpoints and writing "news" articles only from its right-wing point of view. And how can Farah possibly deplore fake news when he publishes so much of it?
Farah concluded with his knee-slapper response to allegations that "President Trump or his campaign colluded with the Russian government": "A conspiracy theory with no evidence to support it." Yes, he really said that, despite the fact there's far more evidence of Russian interference in the election than there ever was of Obama being born anywhere but the U.S. If Trump was a Democrat, WND would be all over this story -- but Farah is a diehard Trump supporter, so the president gets a pass.
We can only express grudging amazement that Farah continues to tell such lies in public with a straight face.
Posted by Terry K. at 9:46 AM EDT