MRC Wants Jimmy Kimmel to Shut Up, Part 2
Topic: Media Research Center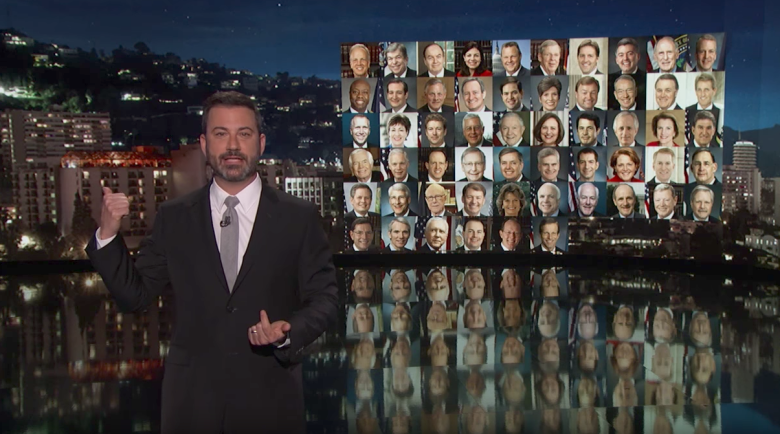 If you thought the Media Research Center was angry when Jimmy Kimmel spoke out against that mess of a Republican health care plan, it was in full-on rage mode when Kimmel reacted to the mass shooting in Las Vegas.
As he did last time, the MRC's Nicholas Fondacaro went on an unprofessional, random-boldface-laden tirade that was even more mean-spirited and personally insulting than the last:
The liberal media's favorite late night shill and self-described pizza eating expert, Jimmy Kimmel used his show the day after the mass shooting in Las Vegas, Nevada to push for gun control while smearing Congressional Republicans for helping to cause the bloodshed. "They should be praying for God to forgive them for letting the gun lobby run this country because it's so crazy," the emotional Kimmel exclaimed to his audience.

"I've been reading comments from people who say this is terrible but there's nothing we can do about it. But I disagree with that intensely because, of course, there is something we can do about it. There are a lot of things we can do about it. But we don't," he began.

SPOILER ALERT: Everything he claimed would have stopped the attack either wouldn't have or was just him lying.
According to Fondacaro, Kimmel was "emotional," "ranting," told "lies," lives in a "warped reality," and "hadn't done any actual research outside of ingesting and regurgitating Democratic Party talking points," ultimately whining that "There's no doubt that the liberal media will hold Kimmel up as the darling sensible voice for tumultuous times." Well, there was certainly nothing sensible coming out of Fondacaro's mean-spirited mouth.
That was followed by Kristine Marsh bashing media praise of Kimmel's "emotional monologue," which was really a "political plea" that was "reciting the liberal media's gun control script," praising her colleague Fondacaro for "debunking the skewed facts and outright lies the comedic host helped spread to millions of Americans who may not know any better."Marsh concluded with a tirade of her own: "With the help of the media promoting his propagandizing on their own daytime news shows, it's no wonder the entertainer is now treated as a policy expert rather than what he actually is, a comedian who is aiding the left-wing media's mission to mislead viewers on this difficult subject."
Neither Fondacaro nor Marsh mentioned the reason Kimmel had justification for being a little emotional: He's a native of Las Vegas.
Then, Curtis Houck dedicated a lengthy post to summarizing how "conservative star and podcast host Ben Shapiro obliterating [sic] the ABC late-night host on Tuesday for an 'abhorrent,' 'gross,' and 'nasty' gun control ranttouting confiscation and mauling those against his views as monstrous" (boldface his).
And because they never miss an opportunity to sneer at a TV personality who strays from their right-wing orthodoxy, Tim Graham and Brent Bozell huffed that Kimmel's monologue "might as well have been brought to you by speechwriters from the office of Senator Charles Schumer." Again, no mention of Kimmel's personal stake.
Graham then went solo to spew more hate at Kimmel, screeching at CNN's Bill Carter for calling Kimmel a reluctant everyman spokesman, highlighting his "estimated net worth: $35 million" and security detail and whining that "Having your own late-night show on ABC and using it for liberal sermons defines the Hollywood elite."
Marsh returned to cheer a right-wing artist's immature (or, according to her, "provocative") mocking of Kimmel for being emotional about the shootings and mockingly renaming his show the "Jimmy Kimmel Estrogen Hour" -- no mention, of course, of Kimmel's personal stake. Marsh lashed out not at the juvenile smear -- apparently, Marsh believes that real men don't get upset at the slaughter of dozens of people at a concert -- but at Kimmel for responding to it and making a "virtue-signaling" statement.
If all the MRC has to offer against its ideological enemies is gratuitous and immature insults, what good is all that Mercer money?
Posted by Terry K. at 2:26 PM EDT
Updated: Saturday, December 16, 2017 12:39 AM EST