CNS Pretends Roger Stone Isn't A Sleaze
Topic: CNSNews.com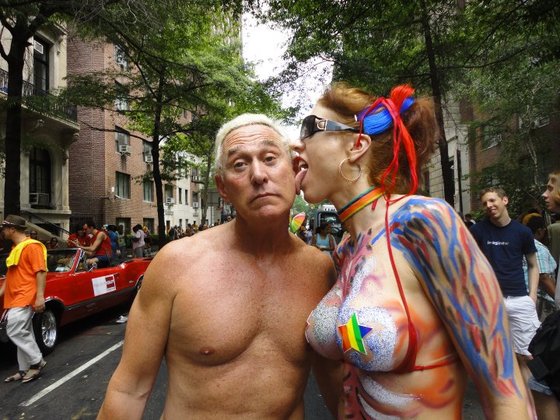 Susan Jones uses a Sept. 26 CNSNews.com article to portray Roger Stone as normally as possible. Under the innocuous headline "Trump's Friend Roger Stone Blasts House Intel Committee: 'This Is Cowardice'," Jones writes:
Denied his request for an open hearing before the House intelligence committee on Tuesday, Roger Stone, a longtime friend and adviser to Donald Trump, released both a video and printed version of his opening statement to the committee before entering the hearing room.

He was blunt, scornful and ticked off:

[...]

Stone described himself as a 40-year friend of Donald Trump and one of Trump's first campaign consultants. He said he consulted for the Trump campaign for five months, until August 2015, and continued to advocate for Trump thereafter.

Stone firmly denied any involvement in the alleged – alleged -- collusion between the Trump campaign and Russia, and he said just because the intelligence community has said there was coordination that doesn't make it true. He listed various failings of the intelligence community and said it has become politicized.
Jones conveniently fails to mention that there was good reason for Stone to be investigation over Russian meddling; as actual journalists at Politico reported:
Stone became a focus of the Russia probe because he indicated in August 2016 that he had communicated with Assange through back channels. Later that month, he seemed to foreshadow the email dump when he prophesied that it would soon be "Podesta's time in the barrel." WikiLeaks began publishing Podesta's emails in October.

Stone also revealed earlier this year that he'd been in contact with Guccifer 2.0, believed to be a Russian-affiliated hacker at the center of a separate hack of the Democratic National Committee.
The only hint of Stone's sleaze and extremism in Jones' article is buried in a photo caption, which mentions that the testimony Stone released went to "Alex Jones' Infowars."
Needless to say, there was no mention of the fact that Jones' boss, Media Research Center chief Brent Bozell, cheered (albeit belatedly) when Stone was banned from CNN and MSNBC for making offensive remarks -- the Trump flip sent that down the memory hole. Nor was there any mention of Stone's personal life, which Jones and the rest of the Media Research Center would be denouncing as immoral were he not a loyal Trump lackey.
Posted by Terry K. at 9:16 PM EDT