Speaking of Overwrought Hatefests...
Topic: Media Research Center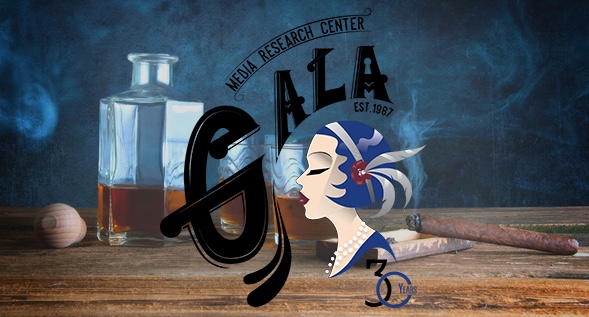 Under the headline "An Overwrought Hatefest at the Emmy Awards," Brent Bozell and Tim Graham spent their Sept. 22 column ranting about, yes, the Emmys, declaring it "a boorish hourslong festival of Trump bashing and Hillary mourning" and a "screaming political spectacle."
The day before that column appeared, however, Bozell and his Media Research Center held their very own overwrought hatefest in the form of the 30th Anniversary Gala and DisHonors Awards. It had a theme (of a speakeasy) as if it was a high school prom, and it was held at a grand building that, ironically for the government-hating right-wingers at the MRC, owes its existence to the federal government.
How hateful was it? One of its so-called awards was given to literally "Every Single Person We Don't Like in the Liberal Media." And anti-Muslim activist Brigitte Gabriel was on hand to sneer, "President Donald Trump is living at the White House, while Hillary is at Costco signing books in the milk aisle." (Though Hillary sold more books last week than Gabriel ever has.)
Nevertheless, the MRC thought its hatefest was so entertaining that its "news" division, CNSNews.com, devoted three entire articles to Joe Piscopo's routine there (which didn't seem all that funny or original -- but then, conservatives don't demand that their humor be funny, just conservative).
Of course, there was not a word breathed about the award the MRC didn't give out: The "Williiam F. Buckley Award for Media Excellence" that was to be given to Sean Hannity but withdrawn after the award was challenged by Buckley's son, presumably opposed to Hannity's irresponsible and un-Buckley-like conspiracy-mongering. The only thing the MRC ever said about it was a single tweet from Bozell claiming a scheduling conflict; but as former MRC employee Ken Shepherd noted, Hannity hosted his regular Fox News show as usual that night.
The MRC definitely knows how to throw an overwrought hatefest to rival the Emmys. If only they'd simply admit that's what they're doing.
Posted by Terry K. at 1:11 AM EDT