MRC Wants Jimmy Kimmel to Shut Up
Topic: Media Research Center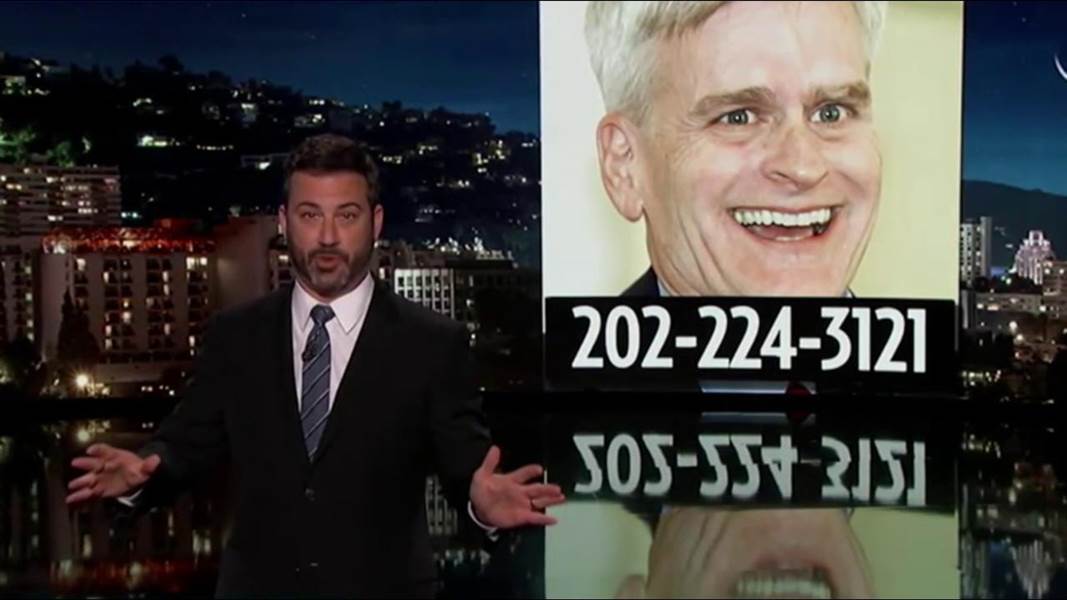 The Media Research Center's first reaction to ABC late-night host Jimmy Kimmel calling out the Graham-Cassidy plan to dismantle the Affordable Care Act for, among other things, making it permissible for states to eliminate coverage for pre-existing conditions was to send Nicholas Fondacaro to pen a lengthy tirade attacking the "tirade" he claimed Kimmel made and declaring that Kimmel was "politicizing his son's medical condition to push for socialized medicine." He also took Kimmel's self-deprecation of himself as only an expert on eating pizza and tried to turn it into an insult.
In the process, Fondacaro selectively edited out much Kimmel said about the Graham-Cassidy plan opening the door to elimination of pre-existing condition coverage, and Sen. Bill Cassidy's promise to him that any health care plan he backs would not do that.
Fondacaro also stuck to regurgitating Republican talking points about the plan, insisting that the millions who would lose coverage under it would be "primarily driven by people CHOOSING not to purchase healthcare."Fondacaro went on to rant (boldface his):
In a cry of desperation for socialized medicine, he championed the health care systems of other countries: "It's unbelievable. Somehow Japan, England, and Canada, and Germany, France, they all figured healthcare out. And don't say they have terrible healthcare because it's just not true."

But the pizza eating expert was 100 percent wrong on what good health care looked like around the world. All one has to do was look at the case of newborn Charlie Gard. Because of healthcare rationing, a British court put him on a long path to death because they didn't want to waste their resources on him or allow the family to take him to America for treatment.

We're still waiting to see if Kimmel agrees with that aspect of socialized medicine if that were his son.
Fondacaro didn't mention that Gard suffered from an extremely rare genetic disease for which there is no known cure; Kimmel's son suffers from a much less rare heart defect that can be repaired through open-heart surgery.
The clear intent of Fondacaro and the MRC here was to shut up Kimmel before his attacks on Graham-Cassidy gained any traction, but it was soon reduced to whining about the attention it got:
Finally, Tim Graham whined that Senate Minority Leader Chuck Schumerwas among those who helped Kimmel respond to Graham-Cassidy: "ABC is being used for Democrat propaganda, and then wonders: why won't people see us as fair and balanced? Why do people call us 'fake news'?" Not only does Graham fail to identify anything Kimmel said that was "fake" or "propaganda," he apparently thinks that a late-night talk show is "news."
Posted by Terry K. at 11:31 PM EDT