WND Complains People Are Calling Trump What WND Called Obama
Topic: WorldNetDaily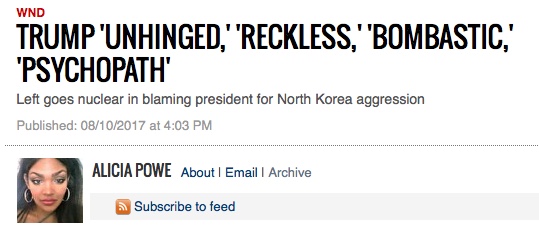 Alicia Powe devotes an Aug. 10 WorldNetDaily article to complaining that people are calling President Trump names regarding his heated rhetoric against North Korea. The headline on Powe's article: "Trump 'unhinged,' 'reckless,' 'bombastic,' psychopath."
Funny thing, though: Those are all insults WND has hurled at President Obama.
"Unhinged"
"Reckless"
"Bombastaic"
"Psychopath"
In other words, Powe is just projecting -- complaining that others are calling Trump the exact same things WND has called Obama.
Posted by Terry K. at 12:19 AM EDT