WND Calls In Limbaugh To Try And Spin Away Trump Jr. Collusion Scandal
Topic: WorldNetDaily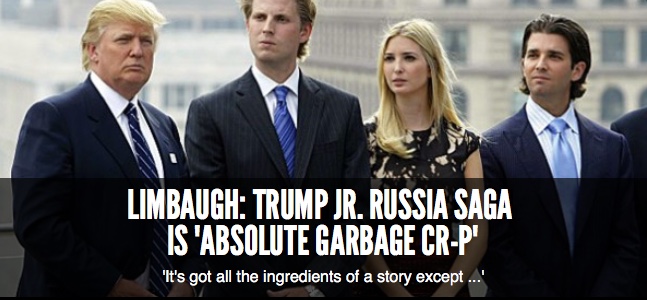 How bad is the scandal over Donald Trump Jr.'s emails and contacts with what he was told was a Russian government lawyer over possible Russian government research attacking Hillary Clinton? The only story on the scandal on WorldNetDaily's Tuesday night front-page promotional carousel is an article by Bob Unruh trying to spin it away and prominently featuring right-wing radio host Rush Limbaugh insisting there's nothing there:
For months now, the floodgates have been gushing with claims that Donald Trump's campaign colluded with Russia to win the election.

"Collusion," "collaboration" and "conspiracy" have been key words in headlines.

However, even analysts from the left, including Barack Obama's green-jobs "czar" Van Jones, have called the allegations "a big nothing-burger."

Now the headlines are aflame with word that Donald Trump Jr. met with a "Russian lawyer" last year.

The New York Times reported Trump Jr. was told in an email "before the meeting that the information [lawyer Natalia] Veselnitskaya had was part of a Russian government effort to help his father's candidacy," NBC reported.

Then, Trump Jr. released emails Tuesday confirming the meeting.

"The email exchange shows an acquaintance with ties to Russia, music publicist Rob Goldstone, telling the son of then-candidate Trump last year that the attorney had 'information that would incriminate Hillary and her dealings with Russia and would be very useful to your father,'" NBC reported.

Trump Jr. said he went to the meeting, listened and nothing came of it: "Obviously I'm the first person on a campaign to ever take a meeting to hear info about an opponent … went nowhere but had to listen," he said on social media.

So is this "nothing-burger" leftovers?

Well, yes, contends talk-radio superstar Rush Limbaugh.
Then, in what may be the weirdest bit of trolling we've ever seen, the story is accompanied by a reader poll asking, "What are your thoughts on Trump Jr. in 2024?" The top answer as of this writing: "Great pick! Let's get to work ..."
No, we are not making that up.
Posted by Terry K. at 12:51 AM EDT