Another Day, Another Meaningless MRC Study
Topic: Media Research Center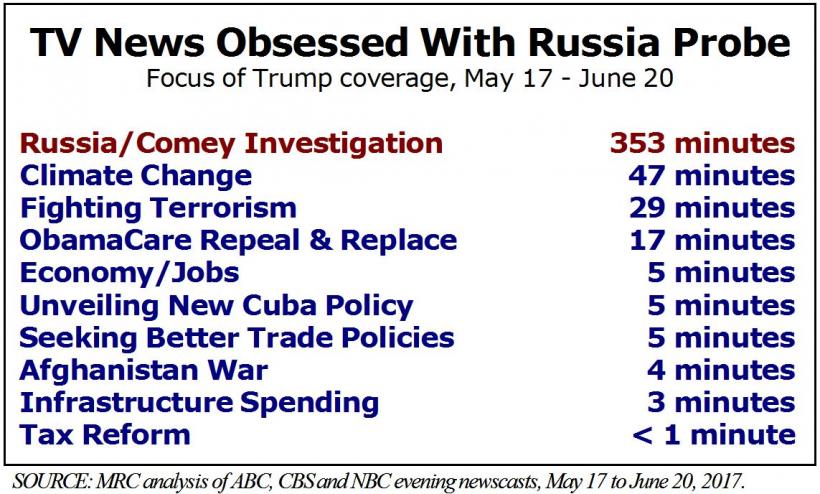 The Media Research Center's Rich Noyes huffs in a June 27 item:
How much has the media's obsession with the ongoing Russia investigation smothered the rest of the Trump policy agenda? A Media Research Center study of every broadcast network evening newscast in the five weeks since the appointment of special counsel Robert Mueller on May 17 found a whopping 353 minutes of airtime devoted to the Russia probe, or 55 percent of all coverage of the Trump presidency during those weeks.

The networks' relentless coverage of Russia meant little airtime was spent on important policy topics, as the investigation garnered 20 times more attention than the new health care bill, 100 times more attention than the administration's push to improve the nation's infrastructure, and a stunning 450 times more coverage than the push for comprehensive tax reform.
The first problem with this so-called study, as with many of these MRC reports, is that 1) it focuses only on a tiny sliver of "the media" -- the network evening news -- and ignores right-leaning media like Fox News. Second, there is no objective baseline provided as to what Noyes considers a proper level of coverage to the Russia story; therefore, any conclusion made is necessarily subjective. Noyes is obviously insinuating that the amount of coverage is excessive, but he can't or won't provide any evidence to prove it.
Noyes does concede that Trump's "ubiquitous tweets" on the Russia story demanded coverage, but then whined that "it's not as if reporters felt compelled to cover all of Trump's utterances." But Noyes will not admit that the Russia story as a whole deserved any media coverage whatsoever.
Indeed, Noyes complains that the Russia stories are hurting Trump, although he's doing so by hiding behind polls claiming the investigation is hurting the country:
TV's obsession with the Russia investigation flies in the race of what the public says it actually cares about. According to a Harvard-Harris poll released late last week, "a majority of voters believe the Russia investigations are damaging to the country and are eager to see Congress shift its focus to healthcare, terrorism, national security, the economy and jobs."

Given the disconnect, it should be no surprise that half of all voters see the media as biased against Trump, compared to only four percent who think the media are pro-Trump, according to a recent Rasmussen poll, with two-thirds of Republican respondents (68%) saying media coverage of the President is "poor."
Noyes apparently has not considerred the possibility that Trump has earned the negative media coverage he's received.
This is just the latest biased and meaningless study from the MRC.
Posted by Terry K. at 2:49 PM EDT