WND's 'Path to Greatness': Vince Foster, False Claims
Topic: WorldNetDaily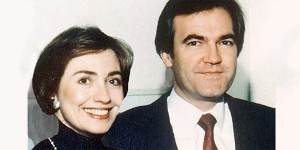 To mark its 20th year of existence, WorldNetDaily has been running a daily list of stories it claims are a "milestone" in its "path to greatness." We've noted one early entry on this list: pushing the conspiracy theory that Antonin Scalia was murdered. So how has WND been adding to that dubious list during the month of April?
On April 7, WND touted how it pushed conspiracy theories about the deah of Vince Foster:
April 7, 1998: Americans skeptical of the official pronouncement of former Deputy White House Counsel Vincent Foster's 1993 death as suicide were given further reason to question how the close associate of then-First Lady Hillary Clinton died when WND reported on an FBI memo containing significant inconsistencies

Further, all the official investigators who might have been the source of the faulty observations pleaded ignorance and refused to accept responsibility.

WND contacted the FBI's Washington Field Office and a media representative said no information could be provided as to the author of the memo, particularly since she did not possess a copy of it. When asked if she would like a copy faxed to her, she responded, "No, I don't want to get involved in this."

A quick check on WND's site search page reveals years of coverage on this still-strange death.
It's only strange if you're complete conspiracy nuts, like WND's employees are.
The next day, WND touted a 2001 article promoting a "Southern heritage group's " effort to petition Congress for a "review of what it said were 'neglected injustices' committed by Union troops and generals in the South during the 1861-65 War Between the States."
For April 14, WND's "milestone" was the never-substantiated claim from right-wing legal group Judicial Watch that "ISIS is running a camp just a few miles from the Texas border.
For April 15, it was a rehash of a stunt to promote WND managing editor David Kupelian's book "The Marketing of Evil," in which WND teamed with the Alliance Defense Fund (now the Alliance Defending Freedom) to falsely portray a college librarian as perpetrating "sexual harassment" and a victim of "censorship" for recommending Kupelian's book.
And on April 26, the big story was, somehow, right-wing radio host Laura Ingraham being diagnosed with breast cancer in 2005.
If that's what WND considers to its "path to greatness," it continues to be a pretty sad excuse for a "news" operation.
Posted by Terry K. at 2:10 AM EDT