WND's Farah Gets Syrian Civil War Wrong
Topic: WorldNetDaily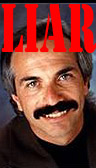 In attempting to take Bashar al-Assad's side on the Syrian civil war and issuing an out-of-character criticism of President Trump for launching missiles on a Syrian air base in response to a gas attack on civilians, Joseph Farah wrote this in his April 7 WorldNetDaily column:
There are two warring parties in Syria – the Syrian government, which is attempting to repulse an invasion and partial occupation of Syrian territory, and ISIS, a terrorist plague on the entire world, not just Assad's regime.
False. There are several warring parties in Syria's civil war, which began when Assad attempted to violently suppress Arab Spring-type protets in his country. In addition to Assad's regime and ISIS, there are anti-Assad rebels, some of whom may be Islamists, and Kurds who are seeking autonomy in their part of Syria. As the Atlantic explains, the civil war has spawned a Sunni-Shia sectarian war and a proxy war with the U.S. and other Perisan Gulf states against Iran, Russia and Hezbollah.
Farah also conveniently ignores the fact that Assad actually built up ISIS by permitting the radicalization of anti-government rebels in an attempt to discredit the uprising against him and actively refused to prevent al Qaeda-linked terrorists from entering the country.
Mind you, Farah portrays himself as an expert on these sorts of things. Farah issues an "intelligence resource," the G2 Bulletin, for which he charges a whopping $99 a year, so he should know all of this about Syria. Which means he's either lying to his readers or so incompetent on the issue of international conflict that neither he nor his G2 Bulletin are worth reading.
Either way, his falsely simplistic portrayal of the Syrian civil war doesn't make Farah look good.
Posted by Terry K. at 12:40 PM EDT
Updated: Sunday, April 16, 2017 9:03 PM EDT