The Clinton Derangement Never Stops At The MRC
Topic: Media Research Center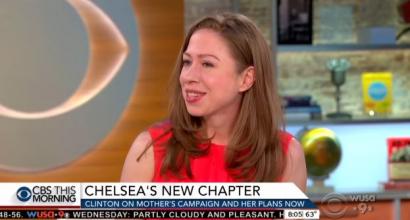 Even though the election ended several months ago, the Media Research Center has a lingering case of Clinton Derangement Syndrome. Scott Whitlock whined in an April 5 MRC post:
What a difference a day makes. CBS This Morning co-host Gayle King on Wednesday grilled Ivanka Trump on being "complicit" in her father's administration, one that many are "very afraid" of. This contrasts to the fawning interview with another first daughter, Chelsea Clinton, on Tuesday. For that, fan girl King gushed over the younger Clinton's political prospects: "Are you running? Are you running? Are you running?"

[...]

The interview, nearly 15 minutes over three segments, gave King time to hammer that question over and over: "Can you give us an example of something you disagree with [your dad] on and that you think by speaking up to him it made him change his position or soften his position?"

Citing those mysterious "critics" again, King pushed the Trump administration as scary: "There are critics who are very worried and very afraid. Who are concerned about the direction that country is going in. And what do you say to those people?"

In contrast, Chelsea Clinton on Tuesday endured no such grilling. Her mom's private e-mail server never came up. The Clinton Foundation and its sketchy donor base never came up. Instead, Charlie Rose breathlessly wondered, "The question everybody wants to know, how is your mother?" He added, "Do you think [your mom] will run for public office again?"
The difference, of course, is that Ivanka is serving as a key adviser to her father, the president; Chelsea served no such role for her mother and was not expected to had Hillary won the presidency.
Whitlock's bosses, Brent Bozell and Tim Graham, expanded this fit of Clinton derangement into an entire column:
King channeled all the liberal outrage that Trump should be like a younger version of Hillary Clinton inside the White House, stopping everything that liberals don't like. She cited anonymous "critics" — i.e., the people she'd just spoken with down the hall at the water cooler — bemoaning her failure to foil the conservatives.

[...]

Now compare: The day before CBS launched into Trump, it offered a typically fawning interview to Chelsea Clinton. No one has ever asked Chelsea Dearest whether she was "complicit" in her father's sexual offenses, or "complicit" in her family's corrupt foundation, even though she's a vice chair. Put the emphasis on "vice."

Instead, America witnessed all the mandatory mewling over her wonderfulness. Will she run for president? King couldn't curb her enthusiasm. She said: "Is there anybody else in the Clinton household thinking about running? And by anybody, I mean you. You could take your book on the road while you're campaigning with 'Get Informed, Get Inspired, Get Going.' I feel like deja vu with your mom all over again. Are you running? Are you running? Are you running?"

Earth to CBS: The country just said no to a Clinton dynasty.
If "the country just said no to a Clinton dynasty,"w hy is the MRC insisting on obsessing about them still?
Posted by Terry K. at 3:59 PM EDT