WND Ludicrously Calls Makeup Company A 'Proxy for Jihad'
Topic: WorldNetDaily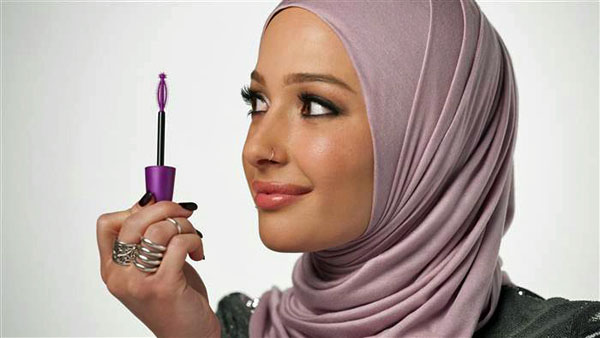 It seems that at WorldNetDaily, Muslims are the new communists. Just like right-wingers found reds under the bed, WND is finding "jihadists" under seemingly every rock it turns over. Like in makeup.
No, really. From an anonymously written March 29 WND article headlined "Muslim expert warns of new proxy for jihad: CoverGirl":
An expert on Islam is warning that jihadis have a new proxy to fight for their rigid, uncompromising and all-controlling way of life: CoverGirl, a new report in Joseph Farah's G2 Bulletin reveals.

"Beauty and fashion industries in particular offer a mold in which intellectual discourse and cultural commentary is cast aside for opinion. That opinion is then shaped, packaged and pushed as a product onto a population group already pliable to messaging," wrote the expert, Shireen Qudosi, director of Muslim Matters at America Matters.

"With CoverGirl's newest 'brand ambassador,' Nura Afia, the message echoes the mantra of hardline Islamist groups who have, since the presidential election, lost much of their political ground. Lost ground is now regained in new spheres through personalities such as Afia, without any association with political parties."

[...]

"Islamist influence is now using Western culture to solidify Islamist values in society's more coveted circles: fashion and beauty," she said, explaining that Melanie Elturk, the chief of Haute Hijab, is boasting that "fashion is one of the outlets in which we can start that cultural shift in today's society to normalize the hijab in America."

It was CoverGirl, she said, that picked Muslim beauty blogger Nura Afia as a new brand ambassador.

"She now stands with celebrities such as CoverGirl's first male makeup model, James Charles; 'Modern Family' star Sofia Vergara and pop singer Katy Perry in a campaign that highlights brands of makeup targeted at customers who applaud surface 'diversity' and 'equality,'" she wrote.
Needless to say, WND did not quote an actual "expert on Islam" who, by contrast to Qudosi, does not hate Muslims to rebut her nonsense.
The only surprise about this article is that chief WND Islamophobe Leo Hohmann didn't write this piece (or, heck, maybe he did since there's no byline).
Posted by Terry K. at 1:40 AM EDT