Sorry, MRC, Whoopi's Right: Fox News Did Promote Birtherism
Topic: Media Research Center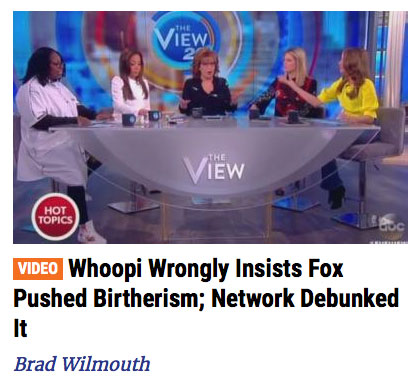 The Media Research Center's Brad Wilmouth complained in a March 29 post:
On Monday's The View on ABC, as the group discussed Ted Koppel's recent interview with Sean Hannity in which he accused the conservative FNC host of being bad for the country, liberal co-hosts Whoopi Goldberg, Sunny Hostin, and Joy Behar all wrongly accused Fox News of promoting birtherism conspiracy theories against President Barack Obama. Right-leaning co-host and former FNC contributor Jedediah Bila was alone in defending her former employer as she shared the stage with four liberals.

Ironically, a Nexis search reveals many examples of FNC anchors over the years disputing the conspiracy theories that Obama was born in Kenya, as they repeatedly made known their belief that he was born in Hawaii and that those who claimed otherwise were misguided. In fact, the news network's most high-profile host, Bill O'Reilly, debated Trump on the subject in March 2011, and on a number of other occasions derided birtherism, using such words as "nonsense," "nutty," "dopey," "bogus," and "patently absurd."
In fact, Whoopi's right. Media Matters counted 52 segments in which Fox News promoted birther claims, and in most of them, Fox News hosts either espoused birther conspiracies or failed to challenge or correct false claims about Obama's birth. Fox News was also Donald Trump's preferred outlet for spouting his WorldNetDaily-enhanced birther conspiracies.
And if we remember correctly, Fox News puts only transcripts from its prime-time shows into Nexis, not Fox & Friends or its other daytime shows, so Wilmouth's research was woefully incomplete.
Even by MRC standards, this is a shoddy "research" job.
Posted by Terry K. at 12:45 AM EDT
Updated: Thursday, March 30, 2017 12:52 AM EDT