MRC Doesn't Back Up Claim That Judge Is 'Liberal'
Topic: Media Research Center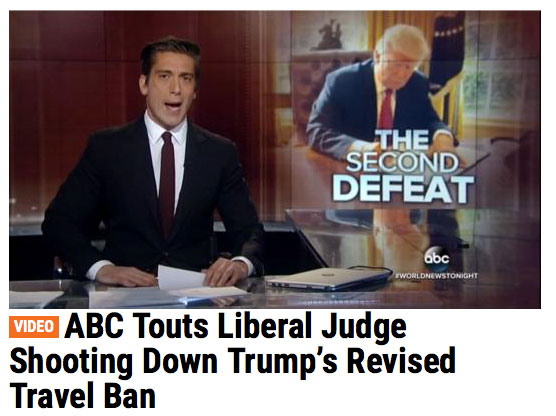 We've noted how the Media Research Center loves hurling labels at suspected liberals without regard to accuracy. We see that again in a March 17 MRC post headlined "ABC Touts Liberal Judge Shooting Down Trump's Revised Travel Ban."
So what's the evidence that the judge is a "liberal'? Fondacaro provides none.
Are we supposed to assume the judge is "liberal" simply because he ruled against an order by a Republican president? Apparently so, according to Fondacaro's logic.
Fondacaro also claims that the judge's order was "championed by the liberal media" -- but he onl evidence he provides of that is an ABC report that, in fact, is a straightforward accounting of the judge's order.
Fondacaro went on to rant that "the constitutionality of Trump's executive order is not in question, according to Harvard Professor Alan Dershowitz," and that "The question of the constitutionality of the executive order was missing from" the ABC report.
Fondacaro further complained that "There was no mention that the countries selected in the order were observed by the Obama White House for needing additional screening because proper checks are lacking. All of which are very important facts to understanding the entire situation."But as Foreign Policy magazine explains, the immigration restrictions Obama had imposed on there countries was much more narrowly targeted and didn't ban nearly all immigration, as Trump's original order tried to do.
In other words, Fondacaro is once again putting right-wing rants ahead of facts.
Posted by Terry K. at 8:28 PM EDT