WND Promises Netanyahu Meeting With This Year's Holy Land Tour
Topic: WorldNetDaily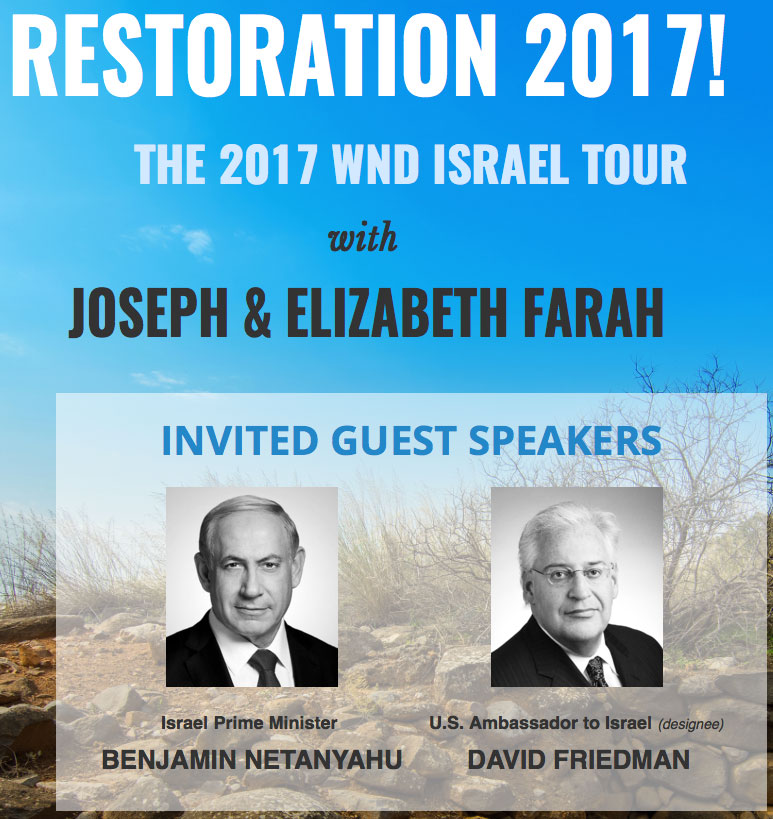 Even though last year's WorldNetDaily-led tour of the Holy Land was close enough to being adebacle that WND was begging for sign-ups three months after the original deadline, WND is doing it again -- with an elevated political profile.
In February, WND started promoting this year's tour with the usual stops, and it's also dangling the idea that tour-goers will get "briefings from Prime Minister Benjamin Netanyahu and new U.S. Ambassador David Friedman among others," adding "You will hear from top Israeli leaders, military brass, see with your own eyes why the Jewish state is so strategically positioned in the hotbed of the Middle East."
But, alas, these visits hasn't actually been worked out yet. As the article later admits:
While Israeli Prime Minister Netanyahu cannot promise he will be able to address the group in November, all indications are positive that he will make every effort to address the group.

As for David Friedman, President Donald Trump's designee as the new U.S. ambassador to Israel, WND is closely working with him on a date for meeting the group, even as he winds his way through the hurdles of the confirmation process and his anticipated move this year to the new U.S. Embassy Jerusalem.

"I'm optimistic," says Farah, "After all, who can turn down Chuck Norris?"
Well, true -- who can turn down Chuck Norris? Except Norris doesn't appear to be actually going on the tour. The article cites a WND column by Norris in which he says, "Bibi and U.S. Ambassador to Israel David Friedman have been invited to speak to the tour group, and I hope they do. Check out the educational and inspiring itinerary here."
And, indeed, the WND website for the tour, while it does state that Netanyahu and Friedman had been "invited" to speak to tour-goers, does not list any such political briefings on the itinerary.
Of course, WND is not averse to creating news events on tour. On last year's visit, there was a publicity stunt by Farah and his celebrity rabbi buddy Jonathan Cahn in trying to get their tour party kicked out of the Temple Mount by provoking a fight with the Muslim Waqf administrators who manage the site.
Posted by Terry K. at 6:12 PM EDT