MRC Analyst Joins 'State-Run Media' Defending Trump Immigration Order
Topic: Media Research Center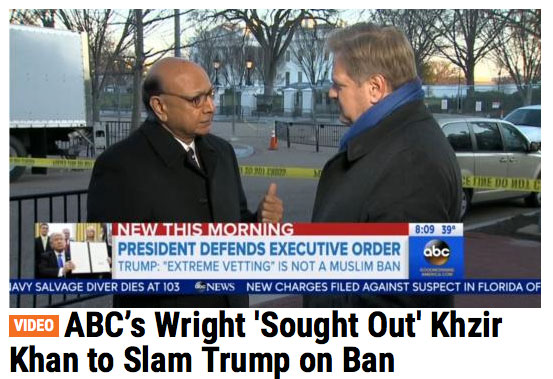 Media Research Center "news analyst" Nicholas Fondacaro has been on quite the tear this week in helping his employer serve as the "state-run media" of the Trump administration, pushing back on criticism of Trump's immigration orders just like his co-workers at MRC "news" division CNSNews.com.
In a Jan. 29 post, Fondacaro complained that ABC "sought out" Khizr Khan, the Gold Star father of a soldier killed in the Iraq War, for comment on the order. No, really: The headline of his post is literally "ABC's Wright 'Sought Out' Khizr Khan to Slam Trump on Ban."
Fondacaro does know that seeking people out for comment on something is pretty much how journalism works, doesn't he? Perhaps not.
On Jan. 31, Fondacaro was outraged MSNBC's Chris Matthews pointed out that Trump's effective ban on Muslim immigration and refugees to the U.S. could feed Muslim resentment and terrorist recruitment. Fondacaro huffed in response:
Their claims that a travel ban would be the catalyst for a major boon for terrorist recruitment is (to borrow a term from a former Obama administration official) "stone cold crazy." They asserted that the ban gave 'great credence" to the idea of a war between east and west. But do you know what's a gives, even more, credence to that idea? Actually dropping bombs, like the over 26,000 former President Barack Obama dropped in 2016 alone.

Of course, we are at war with terrorist organizations throughout the region, so those strikes are to be expected. But to act as though Trump's three-month stay on travel was what the terrorists needed as a proof of war is ludicrous. They could just exploit the accidental US airstrike on a hospital in Afghanistan for their recruitment.
But as ABC's Brian Ross reported, members of ISIS are already using Trump's words as proof the U.S. is at war with the entire Muslim world -- a key recruitment tool for ISIS. The Washington Post added that extremist groups are indeed using Trump's order as validation of their claim that the U.S. is at war with Islam and that Trump was fulfilling the predictions of Anwar al-Awlaki, the American born al-Qaeda leader and preacher who famously said that the 'West would eventually turn against its Muslim citizens.'"
So Matthews is not off base, as Fondacaro claims.
In another Jan. 31 post, Fondacaro complained that "liberals around the country continued to rage over President Donald Trump's not-a-travel-ban ban." But as we noted when CNS tried to push that Trump administration talking point, it's undermined by Rudy Giuliani saying that Trump told him he wanted a Muslim ban and that he asked Giuliani to form a commission to show him "the right way to do it legally."And it has since been further undermined by Trump himself tweeting, "Everybody is arguing whether or not it is a BAN. Call it what you want."
Posted by Terry K. at 2:07 PM EST