WND Author Says Trump's Not Hitler -- But She Loved Likening Obama to Hitler
Topic: WorldNetDaily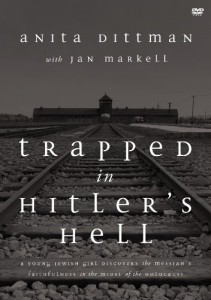 Paul Bremmer writes in a Jan. 25 WorldNetDaily article:
From the left come the cries – Donald Trump is the new Hitler! His "America first" slogan has Nazi undertones! He hates Hispanics, Muslims and gays as much as Hitler hated Jews!

But Anita Dittman lived through the Holocaust as a Jewish girl in Germany during the 1930s and 1940s, and on this International Holocaust Remembrance Day, Jan. 27, she has a message for those who think Trump is the American Hitler.

"When they say he is another Hitler, they are crazy," Dittman told WND in a phone interview. "If he was another Hitler, he'd be shooting people that riot, and they wouldn't have the freedom to riot. If anybody was against things in Nazi times, they would ship them off to the ovens, as we called the camps. There was no freedom."
What Bremmer fails to tell his readers: None of those things applied to President Obama either, yet Dittman was not shy about likening Obama to Hitler.
As we documented, WND publicized Dittman's book "Trapped in Hitler's Hell," which it published in 2014, by touting how she thought Obama reminded her of Hitler, claiming that "Liberals' blind idolization of Obama mirrored Germany's hypnotic fascination with Hitler" as did "Obama's empty rhetoric that energized his followers."
Now that's a better description of Trump and his followers than Obama -- witness WND managing editor David Kupelian's blind loyalty to him -- yet she curiously doesn't see the resemblence. Perhaps Dittman is motivated by something else her Hitler-comparison flip-flop.
But since Bremmer is in marketing and not in news, he can't be counted on to tell us.
Posted by Terry K. at 12:28 AM EST