NewsBusters Writer Ignores Context of O'Reilly Joke on 'The Simpsons'
Topic: NewsBusters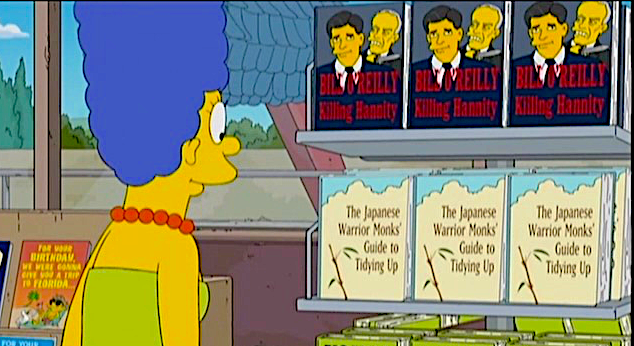 Justin Ashford complains in a Jan. 8 NewsBusters post:
For the second time this season, Bill O'Reilly is a topic of ridicule on The Simpsons. This time, Bill gets some free press for his Killing book series (Killing Jesus, Reagan, Lincoln, Kennedy, etc.), but at the expense of a fellow conservative, natch.

On Sunday's episode, "Pork and Burns," Marge Simpson is scanning for reading material at the car wash. While making her selection, we see the fake book Killing Hannity by Bill O'Reilly.

The cover is complete with O'Reilly lurking behind fellow Fox News host Sean Hannity with a dagger. Clearly the lefty writers at The Simpsons have a death wish for Hannity.
Ashford failed to mention the context that makes the image funny rather than a partisan attack. In a 2011 Newsweek interview, then-Fox News chief Roger Ailes said that "O'Reilly hates Sean," something O'Reilly admitted was "absolutely true" a few days later in an interview with Don Imus (though he added, "But I hate everybody").
And that first time? That was in October, and it was a relatively minor shot (Kent Brockman saying that "Sometimes I'd watch Bill O'Reilly and pretend it was an older, stupider version of me") that included better shots at Fox News, such as Brockman considering a Fox News job where he'd have to be "willing to call yourself a liberal and lose every discussion" -- and the entire episode was based on the incident in which favorite MRC punching bag Brian Williams was caught fabricating claims about his reporting.
Ashford ended that post by huffing: "It's clear the writers on The Simpsons have always, and will surely continue, to favor the left and bash the right. After all, this show has been around since 1989 and doesn't show any signs of ending. Hopefully its viewers investigate the real truth about the media right here on MRC and the leftist lies and propaganda are exposed for what they are."
Of course, given the fawning pro-Trump stenography MRC "news" division CNSNews.com, to name just one example, Ashford is lying when he claims one can find the "real truth" at the MRC.
Posted by Terry K. at 3:06 PM EST