CNS Still Shilling for Trump -- and Russia -- on Russian Election Meddling
Topic: CNSNews.com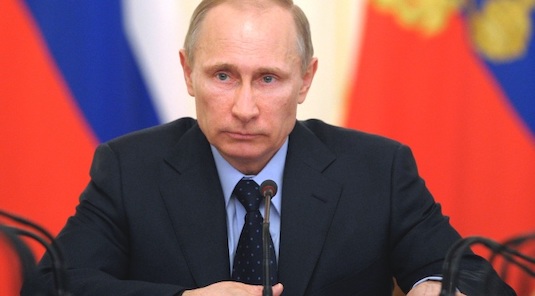 We've noted how the Trump stenographers at CNSNews.com have been heavily spinning for Trump -- and, thus, for Russia -- on the issue of Russian meddling in the presidential election, treating blanket denials from Trump lackeys as undisputed despite evidence to the contrary and even cheering on a "Russian reporter named Andre" slagging President Obama. Well, CNS is still at it, even as the evidence becomes more indisputable.
On Dec. 29, CNS managing editor Micahel W. Chapman proudly quoted Republican Rep. Trent Franks declaring that the Russians "merely did what the media should have done." Chapman quickly added that Franks meant "reported accurate information to the American people" instead of hacking into other people's email, though the full context is unclear since Chapman included only a 9-second clip of Franks saying those words instead of the entire conversation he had on MSNBC on the subject.
But the full segment reveals what Chapman didn't report that would place things in context -- Franks calling Vladimir Putin a "KGB thug" who should be punished for his involvement in the election, as well as backing away from sharing Trump's criticism of the intelligence community.
In a Jan. 3 article, chief stenographer Susan Jones uncritically quoted Trump spokesman Sean Spicer suggesting that President Obama's expelling Russian diplomats in response to the Russian meddling was a "political retribution" instead of a "diplomatic response."
CNS' pro-Republican, anti-Hillary response to the Russian meddling continued in a Jan. 5 article by Melanie Hunter approvingly quoting Republican Rep. Paul Ryan declaring that while Russia "clearly tried to meddle in our political system," they did not put the server in Hillary Clinton's basement or tell her not to campaign in Wisconsin or Michigan.
In covering Director of National Intelligence James Clapper 's congressional testimony on the meddling, CNS did what it usually does: quote only Republican congressmen asking questions and ignoring Democrats. Hunter pushed Trump-approved spin in another Jan. 5 article, leading with Clapper's statement that no "vote tallies" werealtered by the Russians and focusing on Republican Sen. Tom Cotton spinning that Vladimir Putin would not want to help Trump get elected because Trump proposed increasing the defense budget "to accelerate nuclear modernization, to accelerate ballistic missile defenses, and to expand and to accelerate boosting missile defenses, and to expand and accelerate oil and gas production, which would obviously harm Russia's economy" and other "contrary evidence despite what the media speculates that perhaps Donald Trump is not the best candidate for Russia."
Jones followed the template with an article quoting Republican Lindsey Graham saying he's "ready to throw a rock" at Russia, but framed it as criticism of Obama, who only threw a "pebble."
(In contrast to Jones' stenography, actual reporters at the Washington Post noted that Cotton was among the GOP senators who "seemed keen to avoid drawing links between President-elect Donald Trump and the Russian government.")
So it seems CNS is joining WorldNetDaily and Accuracy in Media as becoming Putin's newest friends in defense of Trump.
UPDATE: There's even more shilling: A Jan. 7 article by editor in chief Terry Jeffrey repititiously recycles the claim that "Russia did not target or compromise systems used in counting votes in U.S. elections," a Jan. 9 article by Susan Jones uncritically quotes a Republican congressman (though curiously not identified as a Republican) bashing Obama for purportedly not doing anything about the hacking sooner, and another Jones article plays stenographer for Mitch McConnell insisting that Trump's national security picks are "clear-eyed people who understand fully that the Russians are not our friends."
Posted by Terry K. at 7:29 PM EST
Updated: Monday, January 9, 2017 8:54 AM EST