CNS Reduces George Michael's Life To Arrest, 'Video Showing Two Cops Kissing'
Topic: CNSNews.com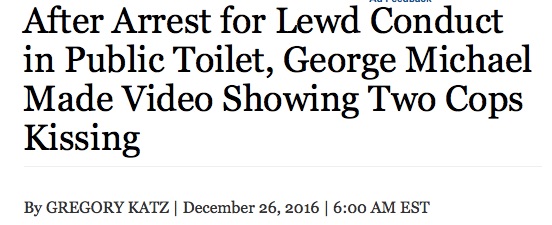 After singer George Michael's death, the Associated Press sent out an article with a feature-oriented angle under the headline "Pop superstar George Michael dies of heart failure at 53." It began by noting how Michael turned his embarassing 1998 arrest for lewd behavior in a public toilet into an artistic statement through the video for the song "Outside" and how its "memorable image of the two uniformed policemen kissing in the video -- both funny and outrageous at the time -- helped Michael come out as a proud gay man."
CNSNews.com ran that AP article as well, but as it has many times before, it decided the original article wasn't biased enough. CNS' new headline for the article: "After Arrest for Lewd Conduct in Public Toilet, George Michael Made Video Showing Two Cops Kissing."
No, really. CNS really did reduce the career of a man who sold 100 million albums and was a worldwide superstar to an arrest and a video for one of his less popular songs.
And CNS' parent, the Media Research Center, has the temerity to complain about the alleged bias of other media outlets?
Posted by Terry K. at 12:02 AM EST