NewsBusters Scrubs Post's Suggestion That Multiracialism Is A 'Liberal Wish'
Topic: NewsBusters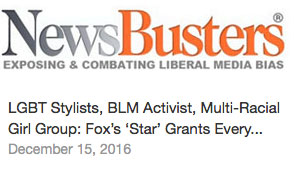 A Dec. 15 NewsBusters post by Karen Townsend complains about the new TV series "Star," asserting that"this show is checking off all the boxes in liberal fantasyland" because it has gay characters and another character who's "active with Black Lives Matter."
But that's not the post that was originally made live at NewsBusters.
The current headline reads, "LGBT Stylists, BLM Activist: Fox's 'Star' Grants Every Liberal Wish." But as the post's URL shows -- as does the NewsBusters feed at CNSNews.com, the headline originally read "LGBT Stylists, BLM Activist, Multi-Racial Girl Group: Fox's 'Star' Grants Every Liberal Wish."
Further, as this website's reposting of the NewsBusters post suggests, the original author's name on the post was Alexa Moutevelis Coombs, not Townsend.
We haven't been able to decipher yet if any content was changed, but if there was a reference to the "multi-racial girl group" in the post itself, it's gone now, beyond a plot reference that "Carlotta brought in Star, a white girl, to work in the black women's salon."
It seems that after posting, someone at the Media Research Center, which runs NewsBusters, realized that it might not be a good thing for a right-wing site to portray being multiracial as a liberal fantasy. Despite the fact thatthe MRC regularly complains about news organizations updating or correcting articles without disclosing it, there is no notice on the post that it has been changed from its original posting.
We contacted Townsend by Twitter to ask some of these questions, but the post in which tweeted out the original headline has mysteriously disappeared.
So what's the deal here? Somebody's clearly trying to hide something.
Posted by Terry K. at 2:49 PM EST
Updated: Thursday, December 15, 2016 2:51 PM EST