Bias: WND Repeatedly Mocks Hillary With Unflattering Photo
Topic: WorldNetDaily
We've documented how WorldNetDaily loves to run pictures to illustrate stories about transgenders that falsely smear them as hairy guys in dresses and heels, as well as pictures of President Obama that make him look either sinister-looking or appearing as if he's looking down on WND's readers.
WND is also not afraid to make Hillary Clinton look as bad as it can. Note the picture that accompanies a Dec. 8 article: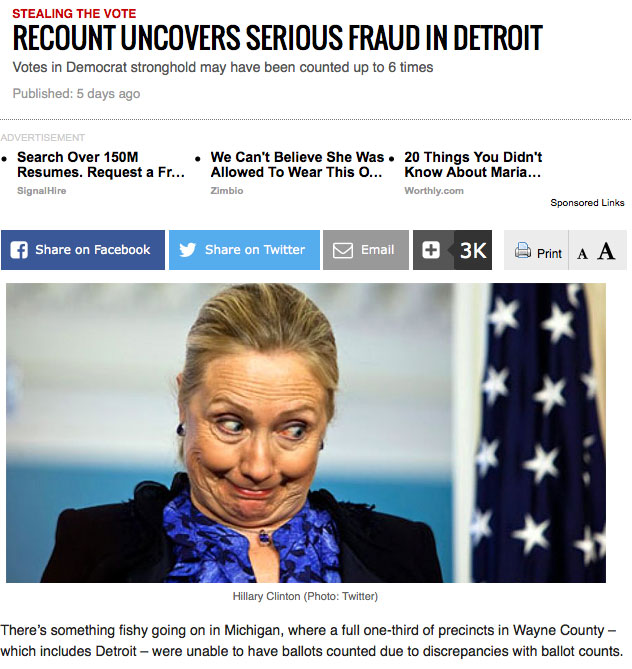 Of course, a real news organization that cared about fair and balanced reporting -- which WND has been desperately trying to convince its readers it is in the fake-news era -- would not use such a picture. It's malicious bias, pure and simple.
Also note that so-called photo credit to "Twitter." Twitter does not have a photo staff (as far as we know), so that's a false credit.
WND used this same photo (though without the bogus credit) in an August article questioning Hillary's sanity, as well as a July article on the "Top 30 things 'more trusted than Hillary'" (without a photo credit but with the sneering cutline "From the looks of it, even Hillary isn't so certain she can trust Hillary").

And speaking of fake news: The fact that this particular article is about alleged voter fraud is meaningless in WND's world, because it was about the recount in Michigan, which WND opposed since Donald Trump won by enough of a margin that fraud allegations no longer serve WND's agenda.
Posted by Terry K. at 2:13 PM EST