WND Columnist Hypocritically (and Dishonestly) Laments Arpaio's Defeat
Topic: WorldNetDaily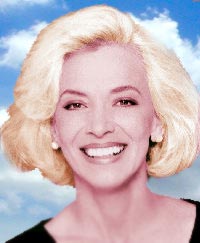 Barbara Simpson's Nov. 20 WorldNetDaily column is one large sad for the defeat of Arizona sheriff Joe Arpaio lost his re-election bid. But she does this in a very hypocritical way.
Simpson touted how Arpaio "was successful in money raising – some $12 million – much from out of state"-- then complained about out-of-state money being used to defeat him: "But his campaign was hurt by the money clout of George Soros who spent $2 million to defeat Joe. In addition, there was $500,000 from Laura and John Arnold, Texas billionaires and $250,000 from Steve Jobs' widow."
Simpson went on to complain that "the government, up to and including the White House, targeted him for legal issues," and that anti-Arpaio ads meant that "Arizonians were drowning in anti-Arpaio bilge. It makes you wonder what they were afraid of."
Meanwhile, Simpson mocked another candidate targeted by the government for legal issues and the subject of much anti-candidate advertising: "Reportedly, Hillary Clinton herself has been having some crying jags about losing. After all, she believed she was destined to be president."
Simpson also potrayed Arpaio's defeat as being solely about his immigration stance: "The reality was – and is – Joe Arpaio is a law-and-order man. When people cross the border illegally, they have broken the law, and he saw it as his responsibility to enforce the law." She also complained that the opposition "painted Joe Arpaio as a foe of immigration, Latinos and anyone not white."
In fact, Arpaio not only was accused of using racial profiling, he was charged a month before the election with contempt of court for continuing to racially profile despite a court order not to. Simpson dismissed it as "an order that essentially says he has to ignore enforcing the law," which is not true -- Arpaio would not be in this trouble if he simply stopped using racial profiling.
But there were other scandals in which Arpaio and his office were involved , putting the lie to Simpson's claim that Arpaio is "a good man" who was "being railroaded."Among them:
Arpaio's office failed to adequately investigate more than 400 sex-crimes cases, including dozens of allegations of child molestation, over a three-year period.
Arpaio had the editors of a local newspaper arrested for reporting that Arpaio had subpoenaed the paper in a lengthy dispute stemming from it publishing Arpaio's home address while reporting on his real estate holdings. The editors were later awarded $3.75 million after suing for false arrest.
Arpaio launched a secret investigation of the judge presiding over the racial profiling case, as well as his wife, based on a statement the wife was purportedly overheard making at a restaurant.

There's a lengthy Wikipedia page dedicated to Arpaio's scandals.
That wasn't the only instance in which Simpson departed from reality. She wrote of the legal costs in defending Arpaio's actions as sheriff: "Over the years, the costs to the people to defend him grew to over $30 milliion and questions started to be raised." In fact, Arpaio's office has racked more than $142 million in legal fees since he first was elected to the job.
Simpson also whined: "One of the most ludicrous comments I saw after the election was from the Associated Press, which said Arpaio's defeat shows 'Arizona voters care little about immigration.' Tell that to Arizonians whose lives have been disrupted and ruined by the criminal activities of illegal aliens in the state. I know. I've talked with many of them."
Simpson took that quote out of context. In fact, the AP article added context that she deliberately omitted: "Exit polls showed that only about 1 in 10 voters named immigration as the most important issue, and three-quarters said they supported a path to legal status for immigrants."
Nope, Arpaio is not a "good man." And Simpson is not an honest writer.
Posted by Terry K. at 1:16 AM EST