WND's Massie, Self-Unaware Trump Supporter, Bashes Obama's 'Lavish Lifestyle'
Topic: WorldNetDaily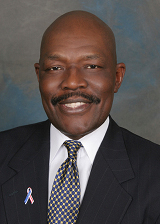 You know a Mychal Massie column could be a good one (and by "good" we mean "crazy and incoherent and hateful") if he starts plundering his thesaurus for five-dollar words to insert. And he doesn't disappoint in his Nov. 21 WorldNetDaily column.
Indeed, Massie throws in his old "Erebusic" chestnutand, in the middle of of yet another anti-Obama rant, throws in "usufruct" for good measure:
It wasn't that Obama lied as such – he's a politician and that's what they do – he lied and then personally boasted, along with his malevolent jackals, how clever they were in putting one over on We the People. Obama did it with "cash for clunkers"; those he surrounded himself with joined him in boasting of the public's "stupidity" pursuant to the Iran deal and Obamacare.

His wife took usufruct to unparalleled extremes and heretofore not witnessed levels of spending and an in-our-face lavish lifestyle with a disregard that exceeded that for which Marie Antoinette was legendary.

Obama, as I have stated numerous times, had the opportunity to end the fractious divisiveness of race mongers. Obama had the golden scepter with which to virtually speak racial discord and the fomenters of same into oblivion. Instead he embraced and consciously increased racial animus and immiseration.

Obama embraced and projected the lowest common denominator of moral propriety – all the while preening and sneering contemptuously at those he viewed as beneath him, or perhaps more accurately stated, those he viewed as his subjects.
Yes, the guy who supported Donald Trump for president is attacking the Obamas for their purported "lavish lifestyle."
Massie also called Hillary clinton a "a wholly corrupt, diseased, barely ambulatory, incoherent, shoddy old 'white' woman." No, we don't know why Massie put Clinton's race in scare quotes.
Posted by Terry K. at 1:29 AM EST