Tebow-Touters At The MRC Won't Mention His Miserable Fall Season
Topic: Media Research Center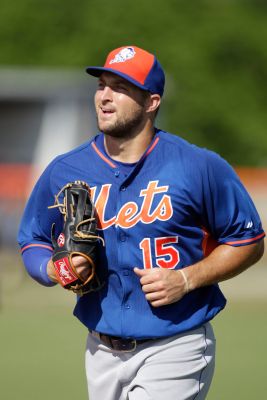 We noted how Media Research Center writers such as NewsBusters Dylan Gwinn and CNSNews.com's Michael Morris crowed about football player-turned-baseball player and right-wing fave Tim Tebow hit a home run in his first instructional league game (while ignoring he went hitless in his other five at-bats in that same game). Well, that wasn't the only Tebow-touting the MRC engaged in.
Gwinn dedicated another post to Tebow, this time about an incident in which Tebow prayed over a fan who had a seizure while waiting in line for an autograph, adding, "If Tim Tebow lays hands on you, you're in…well…good hands."
Morris gushed about that as well, adding that while Tebow went 0-for-3 at the plate that day, "one fan will likely remember the game for the exceptional character Tebow continues to exhibit off the field." Morris went on to spin Tebow's not getting a hit in his first three Arizona Fall League games ("Tebow responded in typical upbeat fashion") and touted another game in which he "just experienced what might be his best moment in his young professional baseball career with the New York Mets, hitting an opposite-field, walk-off single in the bottom of the ninth to lift his team to victory." In between, Morris wrote a post plugging Tebow's new book "that deals with how to handle life's struggles."
One thing you're not likely to hear about from Gwinnn or Morris, however: Tebow's full record in the Arizona Fall League, a developmental league for Major League Baseball's top prospects (and Tebow).
NBC baseball blogger Craig Calcaterra reports Tebow hit a dismal .194 in the league's month-long season, adding that the assessments of Tebow by baseball scouts were even more so:
More important would be the assessment of scouts who would be in a position to look past the results and determine whether there was anything promising there. Batting approaches that, even if they didn't result in a lot of hits, could provide the scaffolding for something he could build in the low minors next spring. What do the scouts think on that score?

"Awful," said one AL scout.

"Stinks," said one from the NL.

"Ugly," said another executive. "In the field and at the plate, nothing looks natural."

Yikes.

Executives quoted in that story, from the New York Post, are a bit more charitable. They note that he did improve with instruction and that he was "not an embarrassment." One notes that he was, as expected, a good influence on his teammates.
Nope, Gwinn, Morris nor anyone else at the MRC won't be telling you all that bad stuff.
Posted by Terry K. at 1:46 PM EST