AIM's Kincaid Unhappy Danney Williams's Exploitation Was Pointed Out
Topic: Accuracy in Media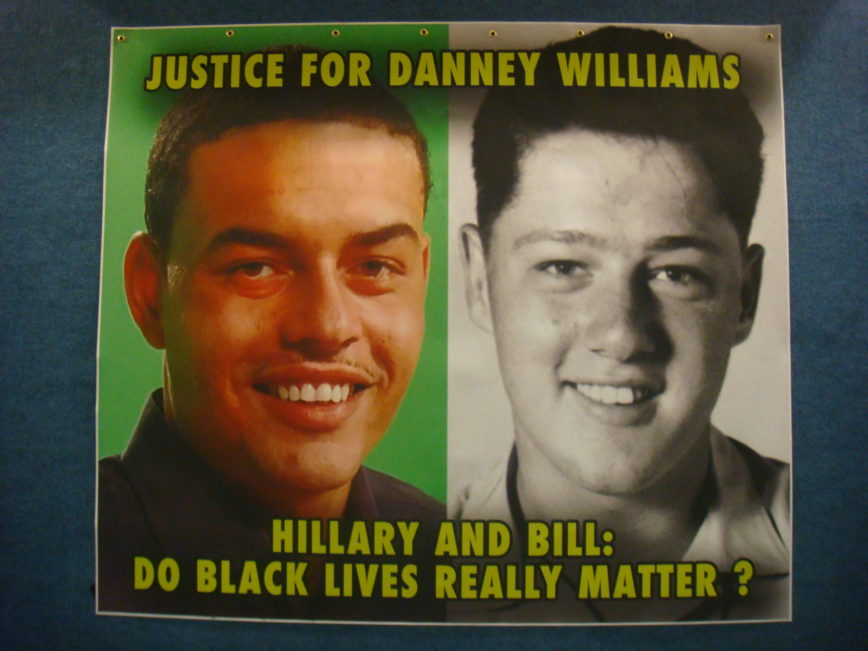 It's abundantly clear that Danney Williams, who claims to be Bill Clinton's illegitimate so, is being exploited by discredited charlatan Joel Gilbert as a tool for political payback. But Accuracy in Media's Cliff Kincaid -- who also wants some political payback against the Clintons -- won't accept that interpretation, even when it's laid out right in front of him.
In his Nov. 2 column, Kincaid rages against the Washington Post's Dana Milbank for pointing out the obvious, then twisting it into a charge of racism:
In a column with strong racist overtones, Milbank depicted Williams as a puppet for conservative filmmaker Joel Gilbert, who is white, and who introduced Williams and the other speakers. Milbank insisted that Williams had been "hauled" to the event by Gilbert and was given a speech to read. He was "looking to Gilbert for instruction" on what to say, Milbank wrote.

While he read a prepared statement about getting the Lewinsky dress, he spoke from the heart and in deep emotional terms throughout the news conference about how he has sought for many years to get Clinton to acknowledge paternity. Williams said he was prepared to file a paternity suit against Clinton if he does not get the DNA from the dress.

[...]

Milbank, who scampered out of the press conference as awareness grew about his real agenda, insisted in his column that he had not made fun of Williams. But his column was full of statements and suggestions that the young man from Arkansas was unable to articulate his own case and had to rely on a white man to guide him.
First, Milbank mentioned Williams' race only twice -- once while quoting Williams -- and did not mention Gilbert's race at all. Second, Kincaid can't possibly know that Williams "spoke from the heart." He was reading words Gilbert obviously put in front of him because Gilbert has seemingly promised him some unspecified something for allowing Gilbert to exploit him this way.
Kincaid then bizarrely claims that "One of Milbank's more obnoxious lies was the claim that Gilbert had once done a film about a 'labor activist' by the name of Frank Marshall Davis, who was Obama's mentor in Hawaii during his growing-up years." It's indisputable that Gilbert made the film; he's just mad that Milbank didn't call Davis "a veteran member of the Communist Party—with a 600-page FBI file—who dabbled in pornography and pedophilia."
But he curiously didn't mention the point of Gilbert's film: to claim that Davis is Barack Obama's real father. And he certainly didn't mention the film has been utterly discredited.
Kincaid, however, was so happy to help with Gilbert's exploitation charade that he took a picture with Williams: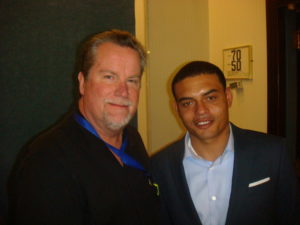 By the end of his column, all Kincaid had left is mocking Milbank's beard and whining that Milbank is "the comedic sidekick who expects to be taken seriously while the audience laughs at him" and "his routine is getting tiresome and old." That's actually a more apt description of himself than Milbank, yet AIM chief Don Irvine still sees fit to give Kincaid a steady paycheck.
Posted by Terry K. at 4:32 PM EDT
Updated: Sunday, November 20, 2016 11:37 AM EST