MRC Ludicrously Claims Lack of Endorsements For Trump Means Media Is 'Rigged'
Topic: Media Research Center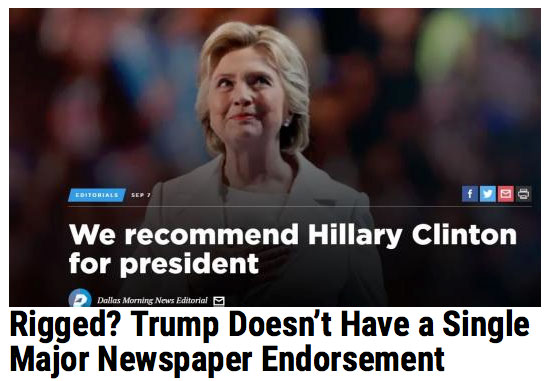 Geoffrey Dickens does an admirable job of trying to play dumb in an Oct. 18 post, in which he pretends not to know why major newspapers that have endorsed Republicans in the past aren't endorsing Donald Trump for president.
His post is laughably headline "Rigged? Trump Doesn't Have a Single Major Newspaper Endorsement." No, it's not "rigged," as Dickens should very well know, however much he'd like that to be the case in order to promote the MRC's anti-media agenda. Newspapers' editorial pages are separate from their news pages, and an endorsement generally does not influence news coverage.
Dickens complains that even papers who endorsed Mitt Romney in 2012 are endorsing Hillary clinton this year. He then huffs: "And while some of those papers have made the argument that Trump is not a reliable conservative, that doesn't mean they have to go all the way in endorsing the liberal candidate," further complaining htat "some of the papers that switched from Romney to Clinton have attempted to justify their selection by claiming Clinton is 'bipartisan,' 'pragmatic,' and a 'centrist.'"
Dickens then excerpts from those endorsements of Clinton -- but he never excerpts those papers' explanations of why they didn't endorse Trump. Why? Because it would show that being a "reliable conservative" is the least of those papers' worries about Trump.
For instance, Dickens highlighted the Arizona Republic's noting that "Hillary Clinton has long been a centrist," but not what it said about Trump. For instance:
Trump's inability to control himself or be controlled by others represents a real threat to our national security. His recent efforts to stay on script are not reassuring. They are phony.

The president commands our nuclear arsenal. Trump can't command his own rhetoric.

Were he to become president, his casual remarks — such as saying he wouldn't defend NATO partners from invasion — could have devastating consequences.
Dickens was also curiously silent about threats of death and violence sent to the Republic after the Clinton endorsement, nor did he mention that Clinton was the first Democrat ever endorsed for president by the Republic -- a clear sign that its concerns about Trump transcend ideology.
Dickens also highlighted that the Dallas Morning News claimed that Clinton achieved "common ground with some of Congress' most conservative lawmakers" as a senator. But he didn't note what the paper said about Trump:
Trump's values are hostile to conservatism. He plays on fear — exploiting base instincts of xenophobia, racism and misogyny — to bring out the worst in all of us, rather than the best. His serial shifts on fundamental issues reveal an astounding absence of preparedness. And his improvisational insults and midnight tweets exhibit a dangerous lack of judgment and impulse control.
The News hasn't endorsed a Democrat for president since 1944. Dickens didn't mention that either.
Dickens also failed to mention how some of these papers also noted that right-wing criticism of Clinton has become ridiculous. The Dallas Morning News wrote that Clinton's shortcomings "pale in comparison to the litany of evils some opponents accuse her of. Treason? Murder? Her being cleared of crimes by investigation after investigation has no effect on these political hyenas; they refuse to see anything but conspiracies and cover-ups." The Republic stated of Clinton: "She has withstood decades of scrutiny so intense it would wither most politicians. The vehemence of some of the anti-Clinton attacks strains credulity."
Of course, doing that wouid not only highlight the feeling among the public that the Clinton-haters at the MRC have overplayed their hand, it would also dispel the notion there's a monolithic "liberal media" that's driven by ideology to attack anything Republican and conservative.
But since Dickens is a loyal MRC employee, deviating from the agenda is not his job -- pushing the meme, however dishonest, is.
Posted by Terry K. at 3:36 PM EDT