AIM's Kincaid Cheers Putin Meddling With U.S. Elections
Topic: Accuracy in Media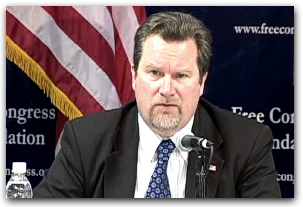 Accuracy in Media's Cliff Kincaid has normally despised Russian leader Vladimir Putin -- at least when acts as a foil for his right-wing views. Kincaid, who still lives in a Cold War mindset, has criticized Putin for pursuing "the Leninist dream of a world dominated by the KGB" and bashed Pat Buchanan for being "a slavish devotee of all things Putin."
But it turns out Kincaid is a slavish devotee of some things Putin. He has cheered Putin's anti-gay efforts and denied that he any kind of homophobe, declaring that "the Russian response to America's export of homosexuality under Obama is understandable, not objectionable, and it doesn't constitute 'homophobia.'" That "response" was a law that forbids people from saying anything nice about gays.
Nonw, in his Oct. 13 AIM column, Kincaid is cheering a foreign power -- Putin, no less -- involving itself in the U.S. election process by stealing other people's property and strategically releasing it to benefit Trump:
But he has professed his love for the Putin when he
The Hillary Clinton campaign says the hackers behind the leaked email evidence of their collusion with the major media are from Russia and linked to the Russian regime. If so, I want to publicly thank those Russian hackers and their leader, Russian President Vladimir Putin, for opening a window into the modern workings of the United States government-corporate-media establishment.

[...]

But the Russians, if they are responsible, have performed a public service. And until there is a thorough house-cleaning of those in the major media who have made a mockery of professional journalism, the American people will continue to lack confidence in their system.
Strange that an anti-communist like Kincaid is so happy that a foreign communist is meddling with American elections. Thats what happens when hate trumps intellectual integrity.
Posted by Terry K. at 10:15 AM EDT