MRC Research Too Thin to To A Proper Ref-Working on VP Debate Moderator
Topic: Media Research Center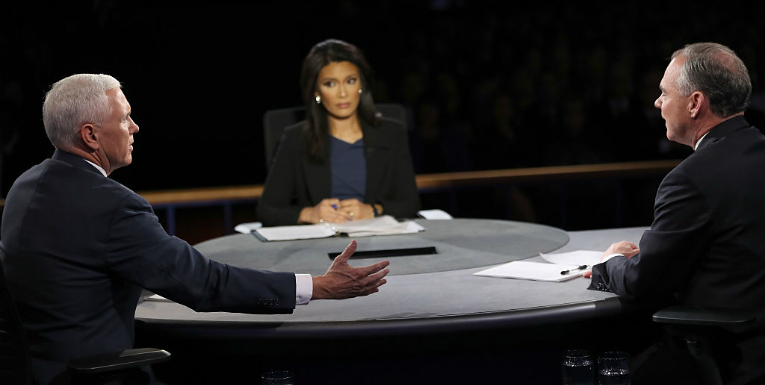 The Media Research Center really wanted to do some serious ref-working on CBS' Elaine Quijano before the Oct. 4 vice presidential debate. When she was chosen as debate moderator, Tim Graham admitted that "the MRC doesn't have a thick file" on her; evidence of that lack of thickness was Graham trying to present as "classic anti-Tea Party tilt" a Quijano report that noted the indisuputable fact that there was "small but passionate minority" in the tea party movement that was "voicing what some see as racist rhetoric."
So bereft of material was the MRC that Graham had to resort to guilt by association, using a Sept. 29 post to attack Quijano because the husband of a CBSco-worker of Quijano's was prepping Tim Kaine for the debate. But even Graham had to concede that there was no there there, admitting that "There is no allegation of suspicious coordination between Quijano and the Barnett-Braver household. But the perception of what Dan Rather would call 'tick-tight' CBS associations creates a perception problem."
Funny, we don't recall Graham being concerned about the "perception problem" when Fox News' Greta Van Susteren had a husband who was working as Sarah Palin's lawyer.
After the debate, of course, MRC chief Brent Bozell trotted out yet another "the moderator is biased" press release that he probably drafted before the debate even began:
Elaine Quijano is given the honor of a lifetime and she can only muster one tough question for Sen. Tim Kaine, the Democrat? Miraculously, she was able to craft EIGHT challenging questions to Gov. Pike Pence, the Republican.

Once again, it's one standard for the Democrat, a different one for the Republican. This is a broken record. Softballs for Democrats, curve balls for Republicans.

Did no one inform Elaine Quijano that the role of a moderator is to ask questions and take a step back while the candidates DEBATE? Quijano and Virginia's over-caffeinated senator repeatedly challenged and interrupted Gov. Pence. By the looks of it, he didn't mind the 2-1 disadvantage.

When are Republicans going to learn that the network media are just Democratic Party operatives with press credentials?
The idea that debate moderators should not correct false claims during a debate is part of the MRC's war against facts, a tactic made necessary because Trump seemingly lies all the time.
Somebody should tell Bozell that partisan ranting is not "media research." (Oh, wait, somebody did, but the MRC censored it.)
Meanwhile, rest assured that the MRC is working the refs for the next debate: it has a new article up on "the worst examples" of the "liberal bias" of the next debate moderators, ABC's Martha Raddatz and CNN's Anderson Cooper.
Posted by Terry K. at 4:21 PM EDT