WND Skews The News To Protect Its Favorite Right-Wing Judge
Topic: WorldNetDaily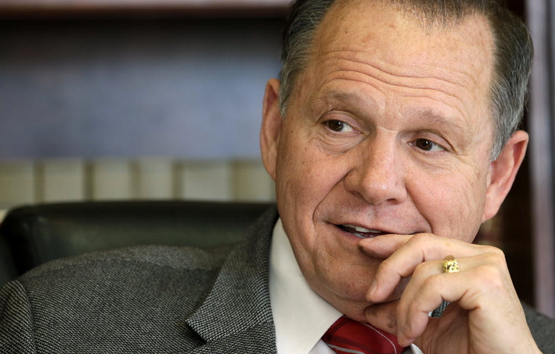 WorldNetDaily has long been a fan of Roy Moore, the right-wing, anti-gay Alabama Supreme Court judge -- it even published a book by him. So it's no surprise that WND took an interest in the Moore being on trial for ordering judges in the state to defy federal law and not issue marriage licenses to same-sex couples.
Of course, WND expresses that interest by uncritically quoting Moore's supporters and bashing his critics, when it's not completely ignoring them.
Bob Unruh's Sept. 28 article on Moore's trial before a Court of the Judiciary panel quickly goes into attack mode, comlaining that the complaint against more that resulted in the trial was "raised by the leftist Southern Poverty Law Center" and spends much of the article bashing the SPLC, including rehashing Floyd Corkins' attack on the right-wing Family Research Council even though the SPLC had no contact with Corkins before the attack (Corkins claimed he located the FRC on the SPLC website's list of anti-gay groups). Unruh quotes only Moore's attorney, Mat Staver of the right-wing Liberty Counsel, and makes no attempt to lay out the evidence against Moore -- that is, act like a fair and balanced journalist.
Unruh's Sept. 30 article on Moore losing his case and being effectively removed from office (he was suspended without pay for the remainder of his term) was similarly biased -- once again putting the lie to WND editor Joseph Farah's laughable assertion that "WND reporters and editors are always encouraged and required to seek out multiple sources and contrary viewpoints in news articles" -- Unruh quotes only one line from the ruling, its final statement that Moore should be removed from office but did not reach a unanimous decision to do so, but he fails to mention any of the evidence used toreach that conclusion. Unruh also claims he tried to contact the head of the Court of the Judiciary panel that ruled against Moore, but this was an empty gesture -- he and WND should know that judges rarely talk to the media about their rulings -- that doesn't excuse his failure to cite the evidence against Moore.
By contrast, Unruh gives plenty of space to Staver to rant at will about the ruling against his client and to Moore himself to rant about this "politically motivated effort by radical homosexual and transgender groups," and he bashed the SPLC again.
It's this kind of reporting -- flagrantly biased, disinterested in reporting facts that don't advance its far-right agenda -- that have put WND into serious financial trouble. The fact that Unruh still has free rein to skew and distort doesn't bode well for WND's future.
Posted by Terry K. at 12:55 PM EDT
Updated: Thursday, October 6, 2016 12:58 PM EDT