MRC: Mentioning Roger Ailes' Sexual Harassment Is 'Liberal Bias'
Topic: Media Research Center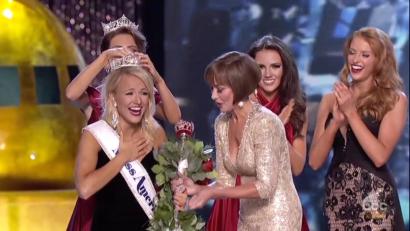 The Media Research Center's Alexa Moutevelis Coombs, in a Sept. 12 post, was tickled to death that her employer's signature issue of "liberal media bias" got a shout-out during the Miss America pageant, in the form of a question about Matt Lauer's questioning of Hillary Clinton and Donald Trump during a presidential forum.
Other things getting questions at the Miss America pageant, however, did not meet with Coombs' approval:
Other instances of liberal bias were on display through the selection of questions. Actress Sara Foster brought up Fox News to Miss Mississippi, Laura Lee Lewis, in saying, "Miss America 1989 Gretchen Carlson just accepted a $20 million settlement from Fox News for her sexual harassment suit against Roger Ailes. Fox paid, Ailes walked. What message does this send?"

Mark Cuban asked Miss Washington, Alicia Cooper, of San Francisco 49ers quarterback Colin Kaepernick's National Anthem protest, "Do you sit with him or stand against him?" And she responds that Black Lives Matter, All Lives Matter.
Wait, so simply mentioning Ailes' sexual harassment scandal is "liberal bias"? And it's also somehow "liberal bias" to ask in a nonpartisan way how a contestant stands on Kaepernick's protest?
That tells us the MRC's definition of "liberal bias" is completely meaningless.
Posted by Terry K. at 1:24 PM EDT