MRC's Bozell Farts In Colin Kaepernick's General Direction
Topic: Media Research Center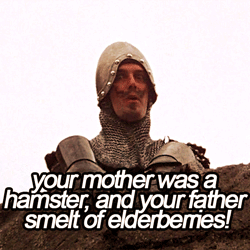 The issue of NFL quarterback Colin Kaepernick refusing to stand for the national anthem as a protest for how minorities are treated in the U.S. has nothing whatsoever to do with the Media Research Center's self-proclaimed mission of rooting out "liberal media bias." But the MRC knows a hot-button right-wing issue when it sees one, and its writers wasted no time in ignoring the point of Kaepernick's protest and instead hurling personal attacks at him and denouncing him as "anti-American."
You had to know MRC chief Brent Bozell wanted in on some of this sweet insult-hurling action. So he ran to Fox Business to spew: "I think this man is a disgraceful ingrate. I spit on him for what he has been saying."
Bozell left unspoken his taunt that he farts in Kaepernick's general direction and thinks his mother was a hamster.
Bozell cranked up the taunts in his and Tim Graham's Sept. 2 column in which they also attack anyone who dares to point out that Kaepernick is well within his first Amendment rights to engage in his protest:
Like so many leftists, this disgraceful ingrate is nowhere to be found when there are a thousand times more "bodies in the street" as casualties of drug dealers or gang-bangers. Almost 500 people have been killed this year in Chicago, Illinois, alone. Seventy-nine police officers have been killed in the line of duty this year. It's unclear if this means a thing to Kaepernick.

But what's even more disturbing is how so many Americans feel the need to express respect for his right to speak freely. On ABC, Sen. Tim Kaine lectured, saying, "You got to respect people's ability to act according to their conscience." No, you don't have to respect that. Nor should you, Sen. Kaine.

How dare this man dishonor all the men and women who gave their lives for that flag? How many men and women pine to throw a football, but are missing hands? Or want to run on the field, but are missing legs?

To many on the left, denouncing America and its flag is a precious right, even an act of courage, when they should not just object, but call that protester an ungrateful jerk.

[...]

Since his team is from San Francisco, it's not surprising that it issued a mealy-mouthed statement. The anthem is a "special part" of the pre-game ceremony, the 49ers said, but "we recognize the right of an individual to choose and participate, or not, in our celebration of the national anthem." Blah, blah, cowardly blah.
We think the definition of "cowardly" applies much more to Bozell, who is too afraid to appear on TV with anyone who might disagree with him (hence the vast majority of his appearances being limited to the narrow world of Fox News and right-wing media) yet demands that the MRC's current target of rage, Jorge Ramos, engage in a debate with him, something he knows will never happen -- which is why he issued the dare in the first place.
Posted by Terry K. at 12:23 AM EDT