Again! MRC Complains Historic Event Is Described As Historic
Topic: Media Research Center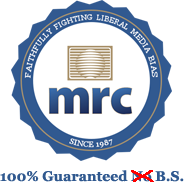 Near as we can tell, base on our observations, this is the Media Research Center's thought process: If a historic event occurs that doesn't advance the MRC's right-wing political agenda, it's "liberal bias" to call it historic.
We see this again in Kyle Drennen's Aug. 31 post on a reporter taking the first commercial flight from the U.S. to Cuba in more than 50 years, something most non-agenda-driven observers would admit is historic:
On Wednesday's NBC Today, correspondent Kerry Sanders once again acted like a representative from the Cuban board of tourism as he reported live from a plane set to take off for the Communist nation: "Well, good morning from the cockpit of Jetblue Flight 387....this is going to be a one hour and eight minute flight into history."

The on-screen headline proclaimed: "U.S. Flights to Cuba Resume; Jetblue Makes History With First Flight in More Than 50 years." Sanders gushed: "This morning, Americans can once again buy a commercial airline ticket and fly from the U.S. directly to Cuba. The last scheduled U.S. Flight was a Pan-Am DC-6 back in 1961. JFK was in the White House, hardly anyone had heard of the Beatles."

[...]

Back in May, Sanders giddily boarded a cruise ship bound for the island. He celebrated the "historic" voyage as a "pinch-me moment."
Scott Whitlock similarly put "historic" regarding Cuba in scare quotes in a Sept. 1 post, huffing that "CBS isn't the only network to be excited over the communist country. On July 21, 2015, as ABC thrilled over the 'historic' opening of a Cuban embassy in Washington D.C., the same network skipped coverage of the country's human rights violations."
Posted by Terry K. at 2:30 PM EDT