NewsBusters Blogger Has Never Watched Colbert's Show, Criticizes Him Anyway
Topic: NewsBusters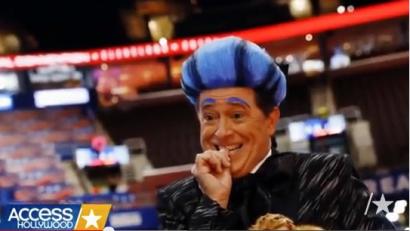 As we've learned, it's not a requirement that Media Research Center "researchers" actually watch or read the things they criticize.
We see this again in a July 20 NewsBusters post by Tom Blumer, who starts off by denouncing Stephen colbert as an "alleged comedian" who's a comedown for the network that hired him, CBS. Blumer is especially upset at the little stunt Colbert pulled at the Republican National Convention:
So on Monday, Colbert, dressed like a dolt, and took to the stage to conduct a mock convention opening.

Colbert's stage crash, which appears to have taken place several hours before scheduled fesitivities began, given that few if any seats in the arena were occupied, received a smattering of cheers from those present.

The video below appears to capture only a portion of Colbert's appearance:

Transcript:

STEPHEN COLBERT: He has formed an alliance with Indiana Governor Mike Pence.

(pause)

Sorry, I blacked out there for a moment.

So it is my honor, to hereby launch and begin the 2016 Republican National Hunger for Power Games!

(security intervenes)

Look, look. I know I'm not supposed to be up here. Honest. Neither is Donald Trump.

As seen after Colbert was forced offstage, the person taking the video, or someone standing very close, thought that his stunt was hilarious.

Given that those on hand at that point would have primarily been party officials, security personnel, and some members of the media, I wonder (no, not really) who thought Colbert's crassness was funny? Perhaps some of them were even employees of a formerly serious news operation called CBS News.
If Blumer had bothered to have ever actually watched Colbert's show, he would know that Colbert is not merely "dressed like a dolt"; he's dressed as an expy of Caesar Flickerman, an emcee character from "The Hunger Games" movies, a character Colbert has been making use of for months to critique the presidential primary process.
If Blumer had bothered to have ever actually watched Colbert's show, he would know that the name of Colbert's Flickerman segments is called the "Hungry for Power Games" -- not "Hunger for Power Games."
And if Blumer had bothered to have ever actually watched Colbert's show, he would have known that the Flickerman RNC segment he's bashing had run the night before he wrote his post, and he could have linked to the segment itself instead of relying on some random person's cell phone video of an out-of-context part of the segment. Certainly even hard-hearted, media-bashing Blumer might be able to find a chuckle at Colbert yelling at NBC's Chuck Todd, "Have Matt Lauer washed and brought to my tent!" And he wouldn't have botched Colbert's parting dig, where he actually said: "I know I'm not supposed to be up here, but let's be honest, neither is Donald Trump."
But Blumer's not one to let his ignorance get in the way of his Colbert bashing. He chortled that Colbert's show has been "finishing at or barely above third in the 18-49 ratings to both Jimmy Fallon and Jimmy Kimmel," then sneered: "Though Colbert got some of the attention he craved from Access Hollywood, it's hard to imagine that this will help his show's ratings."
Actually, Colbert did get a nice ratings boost from his live RNC shows, beating both Fallon and Kimmel.
But, hey, NewsBusters didn't hire Blumer to get his facts straight.
Posted by Terry K. at 9:59 AM EDT
Updated: Saturday, July 23, 2016 10:05 AM EDT