Everybody's Getting Their Bhuttos Wrong
Topic: Media Research Center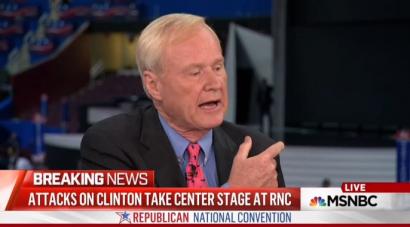 The Media Research Center really, really hates Chris Matthews, even when he's defending Donald Trump. So much so, in fact, they can't quite their facts straight.
The MRC's Curtis Houck devoted a July 21 post to complaining about Matthews saying that "the Republican National Convention (RNC) chanting "lock her up" concerning Hillary Clinton was akin to what one would hear in Buenos Aires, Argentina or Caracas, Venezuela."
This led Matthews to conclude the segment by invoking two Latin American countries and bizarrely and irresponsibly throwing in the assassinated former Pakistani Prime Minister Benazir Bhutto (which he falsely asserted was male) as a consequence of such rhetoric:

I've never been to a convention — look, I've never been to a convention in Caracas or Buenos Aires, but I'm sure I've heard it down there...It is very Latin American. This is wild stuff. My opponent — and too, a lot of countries, they put away the guy who — how about — what is it, Benazir Bhutto? He loses an election, they hang him.
Matthews did get a fact wrong, just not the one Houck thinks he got wrong -- Matthews simply named the wrong Bhutto -- which makes Houck a little wrong too.
Benazir Bhutto's father, Zulfikar Ali Bhutto, is the person Matthews was trying to think of. He was ousted as Pakistan's prime minister in a military coup (not losing an election, as Matthews claimed), then was arrested on trumped-up charges of murdering a political rival. He was found not guilty yet was sentenced to death. Benazir Bhutto was assassinated in 2007 while seeking re-election to a third non-consecutive term as prime minister, which means her story wouldn't fit Matthews' analogy, as Houck suggested.
Can everybody just get their facts straight, please?
Posted by Terry K. at 2:50 PM EDT