What Passes For A Fact-Slap At WND, Starring Scott Baio
Topic: WorldNetDaily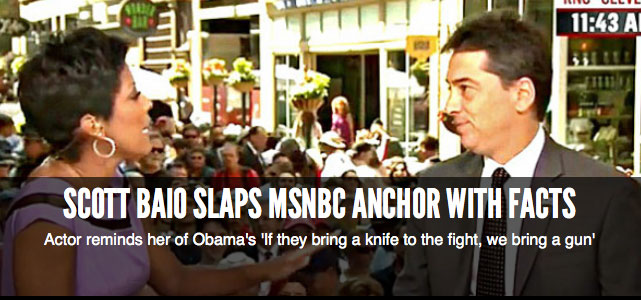 Bob Unruh writes in a July 19 WorldNetDaily article, under the headline "Scott Baio slaps MSNBC anchor with facts":

MSNBC host Tamron Hall lashed out at actor Scott Baio at the Republican Convention in Cleveland on Tuesday for what she clearly considers inappropriate social-media messages in the political arena, demanding to know whether they represent the "moral compass" that Baio wants to present.

But the confrontation clearly turned in an unwelcome direction for her when the "Happy Days" star cited President Obama's "gun" quote.

That was in June of 2008, when Obama said, on the campaign trail, "They're going to try to scare people. They're going to try to say that 'that Obama is a scary guy.' If they bring a knife to the fight, we bring a gun, because from what I understand folks in Philly like a good brawl. I've seen Eagles fans."

Hall immediately denied Obama said that.

"That's absolutely not true," she claimed.

Baio had said, "You want me to be sweet and gentle to a man, a president, who says if they bring a knife to an argument, you bring a gun. That's what President Obama said."

He was right.
While Unruh repeats what Obama said as taken from a 2008 Politico article, that article conveniently omits the context of the statement. As FactCheck.org points out, the line -- obviously borrowed from the film "The Untouchables" -- was clearly made in the context of warning donors that the general election campaign against McCain could get ugly.
Of course, the whole point of Unruh playing up an eight-year-old, out-of-context quote by Obama is to distract from he delightfully underdescribed as "Baio's tweet regarding Michelle Obama featured an unflattering image of her, with the reference to what Barack Obama wakes up to." Unsurprisingly, Unruh didn't supply a link to Baio's tweet or embed it in his article so his readers can judge what it really is: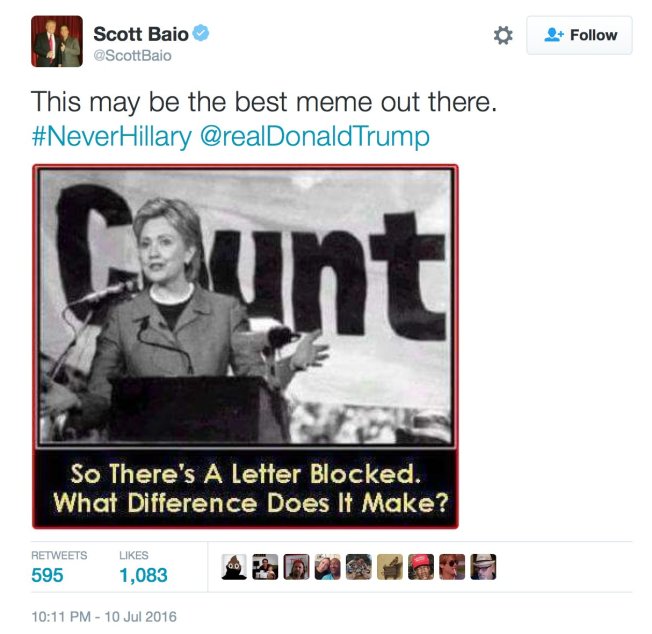 Unruh offers no criticism of Baio's tweet, which we can assume to mean that he and WND approve of its message.
While Unruh couldn't be bothered to place Obama's statement in context, he makes sure to do so with one by Trump:
Hall retaliated with a Donald Trump quote.

"The person that you support, the person that you support – the person you support said, he could take a gun out on Fifth Avenue and shoot someone in the head, and you would still support him. Is that true?"

Baio answered that Trump did say that, but then questioned Hall about Obama's statement.

Actually, Trump's comment, during a campaign rally in Iowa on the subject of how loyal were his supporters, was that he could "shoot somebody and not lose any voters."
Then again, Unruh doesn't want to report facts -- he wants to distract from them. You can't slap facts you're trying to bury. No wonder WND has no credibility.
Posted by Terry K. at 12:26 AM EDT