MRC Defends Race-Baiting CNN Commentator
Topic: Media Research Center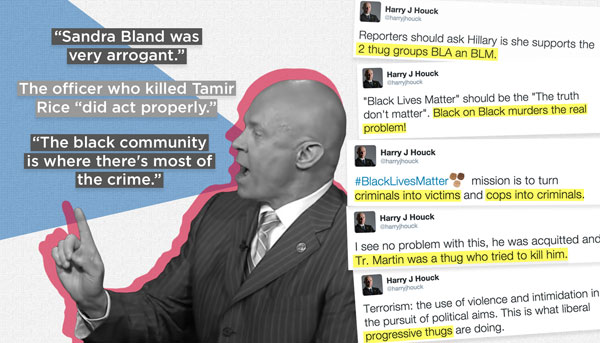 The Media Research Center is so completely
aboard the Trump train
, it appears, that it's starting to reflect his retrograde attitudes.
When race-baiting right-wing CNN commentator Harry Houck actually said that blacks are "prone to criminality," what did the MRC's Brad Wilmouth do in a July 11 post? He defended Houck as being "completely accurate" and blamed fellow CNN commentator Marc Lamont Hill for freaking out about it and causing a lack of a civil conversation on the issue:
Monday's New Day on CNN displayed a classic example of how difficult it is to have a conversation with a liberal about racial issues. If you present relevant facts that are completely accurate, you run the risk of being accused of racism, especially if the liberal you're speaking to has a different vision of what your choice of words should have been.

Moments after CNN law enforcement analyst Harry Houck recited NYPD stats finding that New York City's black population commits crime at a rate much more disproportionate compared to their percentage of the population, he and liberal CNN political commentator Marc Lamont Hill got into a debate about whether the Ferguson police department was found to be racist based on emails that had been circulated.

After Hill declared, "If Harry stood on national TV and just said that black people are prone to criminality, I wouldn't even respond to that," leading Houck to respond, "Well, they are," as he referred back to the aforementioned crime statistics. The two then got into a heated exchange that went on for almost three minutes.
The problem here is that while Houck's numbers may be "accurate," they are incomplete and lack context. As the Daily Kos' Frank Vyan Walton details, the numbers Houck was citing date from the days of New York's controversial stop-and-frisk policy, which overly targeted minorities and was ineffective at deterring crime -- only 6.2 percent of people stopped under stop-and-frisk were ever arrested and only 2 percent were convicted of a crime.
Further, Walton notes, in nearly every category of crime in the NYPD stats, the number of blacks arrested are significantly lower than the number of blacks considered as suspects, which would seem to suggest a certain amount of reflexive racism among the NYPD.
Houck is the kind of person whose attitudes on race the MRC now considers acceptable. That's what happens when you get on board the Trump train.
Posted by Terry K. at 3:02 PM EDT
Updated: Tuesday, July 19, 2016 3:13 PM EDT