WND Now Trying to Blame Obama for Dallas Shooting
Topic: WorldNetDaily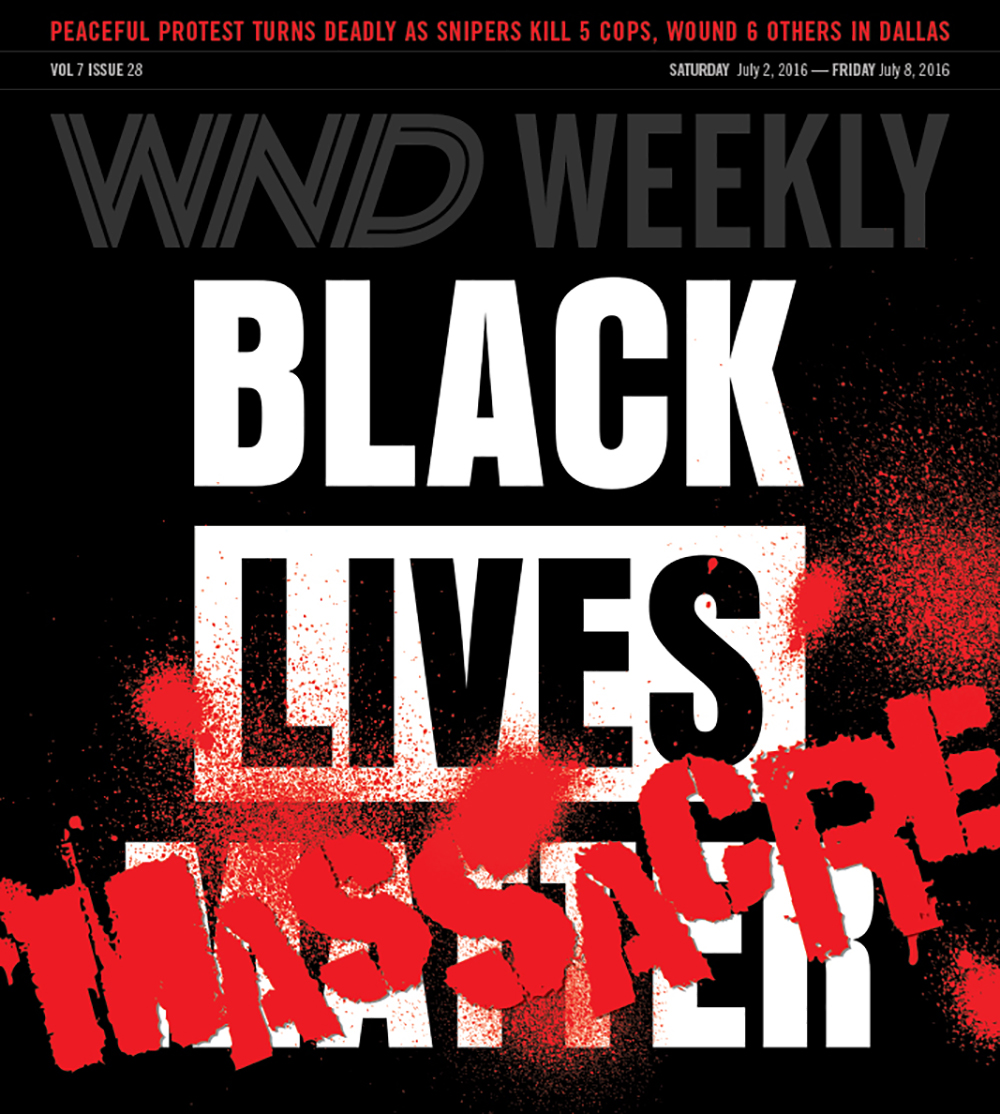 Having falsely linked Dallas police shooting perpetrator Micah Johnson to Black Lives Matter, WorldNetDaily continued on its fact-free way and tried to blame President Obama for the massacre as well.
Right-wing ambulance-chasing terrible attorney Larry Klayman spewed in his July 7 column:
In the wake of the massacre of five Dallas, Texas, policemen, with seven shot and wounded, President Barack Hussein Obama, as he has with his Muslim brothers, refused to refer to this heinous crime as a "hate crime" – despite the fact the shooter had admitted that he wanted to kill whites and in particular white cops, motivated by the hateful anti-white rhetoric spewed forth by Black Lives Matter and thus by extension the support this insidious group has gotten from Obama himself.

Not only does Obama have blood on his hands as having encouraged if not furthered this hate crime against whites and white cops, but so too does his "soul brothers," the virulent anti-white, anti-Semitic and anti-Christian so-called Rev. Louis Farrakhan, leader of the Nation of Islam, and his co-enablers like another so-called reverend, Al Sharpton, a charlatan and white hater. Indeed, Obama has, as usual, chosen to associate himself with these lowlifes in his quest to ram his latent hatred of whites, Jews and Christians down everyone's throats. When the leader of the United States and supposedly the Western world, who was born to a Muslim father, schooled in Muslim schools, and has close ties to black-Muslim leaders like Farrakhan seeks to incite violence by virtue of his running interference for Muslims and blacks who are not even representative of African-Americans generally, it's no wonder Obama-inspired massacres like Dallas happen. In two words, "Obama Happens!"
Klayman then showed off his ambulance-chasing ways:
I am filing in the next day a lawsuit, with myself as the initial plaintiff, against Obama, Black Lives Matter, Farrakhan and Sharpton for endangering not just my life, as a white law enforcement person of Jewish origin, but also for all Americans, white, black, yellow or brown, no matter what their race or religion. Someone has to take the first step, and I have concluded it has to be me.
Bercause Klayman is just that narcissistic and delusional.
The same day, WND editor Joseph Farah declared that "Obama himself provided plenty of excuses beyond his inclination to enflame racial strife and deter racial reconciliation. He has done everything a president of the United States could do to bring us such a tragedy – with potentially more on the way."
Farah then lists several bullet points to attempt to prove his point, such as the tired, irrelevant claim that "Obama will not use the term 'Islamic terrorism.'" But it's a sign of WND's overall lack of credibility that two of Farah's bullet points reference "FBI counter-terror specialist John Guandolo."
Why? Guandolo is actually a former FBI counter-terror specialist (which Farah concedes in his second reference to Guandolo), and the reason he's a former FBI counter-terror specialist is because he's a serial philanderer and adulterer who jeopardized a federal investigation by having sex with a witness and trying to get her to donate money to a right-wing "anti-terrorism" organization.
Still, WND insists Guandolo is actually credible. Which is just one more reason people think WND isn't.
Posted by Terry K. at 12:34 AM EDT
Updated: Tuesday, July 12, 2016 12:40 AM EDT