ConWeb Is Well Represented in Secretive Right-Wing Group
Topic: The ConWeb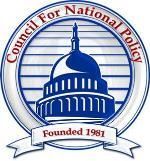 In May, the Southern Poverty Law Center published a list members (as of 2014) of the Council for National Policy, a secretive group of right-wing power players in politics, culture and the media. The CNP enforces a "Fight Club"-style omerta in which members are not to acknowledge that they are in fact members, and far-right extremists mingle with more mainstream conservatives. The group has been a behind-the-scenes force in coalescing right-wing support for Donald Trump's presidential campaign.
Thus, it's no surprise that the ConWeb is well represented in the CNP's membership among media members.
Needless to say, WorldNetDaily's Joseph Farah and Jerome Corsi are members of the group, with both being on the CNP's board of governors and Farah a member of the "Gold Circle," which sounds like some sort of super-elite faction within the group. Farah has been a longtime member; we've documented how Farah reported on a CNP meeting in 2007 despite the fact that the article had no byline, deduced from the fact that he's a CNP member, WND was one of the few media organizations in attendance, and he is presumed to have sought CNP permission to write about the meeting before doing so.
But a couple other members on the CNP list might be a bit more of a surprise. Newsmax's Christopher Ruddy is a member and on the board of governors, and CNSNews.com editor in chief Terry Jeffrey is also a member. (Interestingly, Jeffrey's boss, Media Research Center chief Brent Bozell, is not listed as a member.)
If we were as conspiratorially minded as Farah and WND, we could presume that the presence of bigwigs from WND, Newsmax and CNS means that the "news" organizations engage in some level of coordination when it comes to determining their editorial agendas.
But we'll never know, because not only have Farah, Corsi, Ruddy and Jeffrey continued to keep their CNP membership a secret from their readers, their websites have reported nothing on the CNP -- let alone the leak of the membership list -- in the month and a half since the SPLC's story came out.
Which means the ConWeb has put maintaining the omerta over reporting facts.
Posted by Terry K. at 11:53 AM EDT
Updated: Sunday, July 3, 2016 12:15 PM EDT