WND Gives Away Stolen Property To Build Its Mailing List
Topic: WorldNetDaily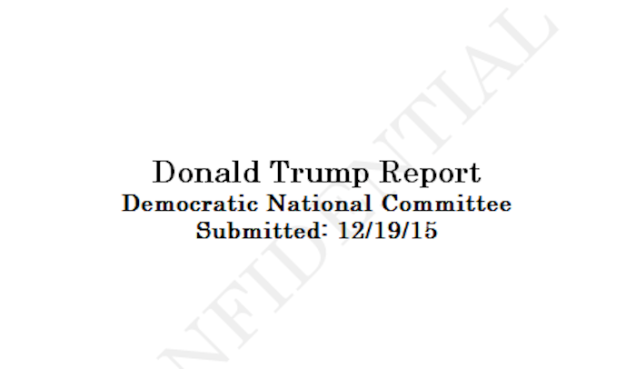 WorldNetDaily worked up quite the come-on for this:
It's probably the most important document of the 2016 election – and now you can get it for free.

The internal research file compiled by the Democratic Party on Republican nominee Donald Trump was recently hacked, reportedly by Russian intelligence. More than 200 pages were stolen, detailing the exact lines of attack Hillary Clinton and the Democratic Party plan to unleash on the Republican nominee.

However, even this tale of international intrigue may be less explosive than the real truth. Donald Trump recently accused the Democratic National Committee of deliberately leaking the document. The real-estate tycoon and television star noted the Democratic Party has not apologized for allowing this secret data to be accessed and suggested they should.

Get the secret report rocking the 2016 election. "The Secret Democrat Playbook Against Trump" is available free. Sign up here!

The Russian government has denied any involvement in the leak. They even mocked the Democrats, suggesting "someone forgot the password or set the sample password 123456."

"Well, it's always simpler to explain this away as the intrigues of enemies, rather than one's own incompetence," said German Klimenko, President Vladimir Putin's top Internet adviser.

[...]

The document contains a detailed examination of Donald Trump's business record, political positions, and personal relationships. Going back decades, it's an exhaustive analysis of those items Hillary Clinton believes will allow her to destroy the populist standard bearer of the Republican Party.

However, it also previews the attack lines the Democrats are likely to use in the campaign. For example, it denounces Trump's "divisive and offensive campaign" and provides the exact quotes the Democrats believe supports this narrative.

For investigative reporters, armchair strategists or even just anyone interested in American politics, this is an invaluable document. Think of what an advantage a football team has if it had its opponent's playbook. Now, Donald Trump and the Republicans have the exact battle plan the Democrats are going to be using in the 2016 campaign. Every time Hillary Clinton recites her lines, it will sound like an actor reading off a script.

Now, you too can see the Democrats secret plan, the playbook to destroy Donald Trump.

Simply fill out the form and you can receive this explosive report. It's an opportunity political junkies in any other election cycle would have payed thousands for – but you can get it within seconds, absolutely free.
That's right -- WND is giving away stolen property, even if WND did not commit the original theft (as far as we know). "Hacked" files are stolen property; WND would not be feeling so benevolent if someone hacked its internal computer systems and gave away that information.
Is that really the way a responsible news organization behaves? Nope.
And lest you think that WND is acting with any shred of benevolence in giving away stolen property, it's all for its usual purpose: building its mailing list. The form to get the stolen property states, "You will also be signed up for news and special offers from WND via email." Which means recipients are also condemned to several emails a day from WND filling their inboxes.
One more thing WND won't tell you: the stolen property it claims is an "exclusive offer" is freely available elsewhere -- here, here and here, for starters.
So it's not "exclusive," and you don't have to hand over your email address to the least credible news organization in America to get it.
Posted by Terry K. at 12:10 AM EDT