WND's Farah Serves Up More Obama Lies
Topic: WorldNetDaily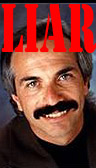 In the midst of yet another anti-Obama screed in his May 8 column, WorldNetDaily editor Joseph Farah writes:
Let's get this straight: There's nothing compassionate about whining for more benefits someone else has to pay. Furthermore, every time a business is mandated to pay extra for new services to its employees, it hires fewer people.

I will also say there is nothing compassionate about raising the minimum wage. It's a job killer – and America needs jobs with nearly 100 million people not working.
As we've pointed out, the reason there are "nearly 100 million people not working" is that most of them are either retired or in school. Even the conservative American Enterprise Institute agrees that the labor force participation rate, which is the number Farah is citing, is a meaningless gauge of unemployment.
Farah then rants:
Obama is a user, a leech, a demagogue, a phony who never lifted a finger even to assist his own impoverished relatives in Kenya. He did, however, see to it that you increased foreign aid to that country so Americans would live more like Kenyans in the future.
In fact, WND reporter Steve Peacock's evidence-free attempt to atrribute all spending initiatives in Kenya directly to Obama obscures the fact that,as Peacock eventually admitted, U.S. aid to Kenya actually decreased under Obama, from a high of $830 million in fiscal year 2009 to a low of $460 million in fiscal year 2013. While Peacock claimed aid to Kenya was budgeted to rise to $630 million in 2016, that's still about 25 percent less than was spent under the final budget approved under George W. Bush.
So, yeah, Farah is lying again. No, we're not surprised.
Posted by Terry K. at 12:30 AM EDT