MRC Flip-Flops, Demands That Media Go With Never-Verified Guccifer Story
Topic: Media Research Center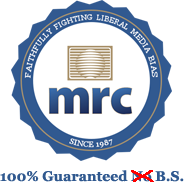 It was just a few weeks ago that the Media Research Center was demanding that the media ignore tabloid reports of affairs by Ted Cruz, dismissing them as "factually unsupported" and having "a complete lack of solid sourcing." Now, the MRC is demanding that the media cover an unverified anti-Hillary Clinton story.
Geoffrey Dickens writes in a May 5 post:
Romanian hacker Marcel Lazar AKA "Guccifer" told FNC's Catherine Herridge that accessing Hillary Clinton's server was "easy. For me, for everybody." But Herridge, who appeared on Wednesday's Kelly File to discuss the bombshell accusation, wasn't the only reporter with the story.

A May 5 NBC News online story reported the Romanian hacker revealed "in an exclusive interview" with correspondent Cynthia McFadden that Clinton's server was "like an open orchid on the Internet." However, as PowerLine's Scott Johnson pointed out, "NBC interviewed Guccifer during his pre-extradition detention in Romania. That means the reported interview took place at least a month ago."

According to the online article, the interview will be featured on tonight's (Thursday's) edition of NBC Nightly News. But the questions have to be asked: did FNC's report force NBC to finally air the interview and why did they sit on it, initially?
The answer can be found, had Dickens bothered to look for it, in the transcript of a Fox News transcript he attached to his item, in which correspondent Catherine Herridge states that "Lazar's claims cannot be independently verified."
Dickens doesn't explain why unverified reporting is unfair to Ted Cruz but perfectly fine for Hillary Clinton.
Posted by Terry K. at 3:55 PM EDT