MRC Loves TV Correspondent Sex Scandals -- Except The One Involving A Fox News Correspondent
Topic: Media Research Center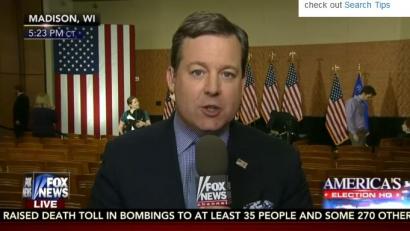 Fox News White House correspondent Ed Henry is one of the Media Research Center's favorite sources. In February and March alone, the MRC highlighted four stories Henry reported that other, less conservative-biased media didn't cover (or "censored," in the MRC's favorite parlance).
But the MRC hasn't mentioned Henry since March 30. In early May, Henry was taken off the air after reports surfaced of the married Henry having an affair with a Las Vegas hostess.
The MRC has yet to mention this scandal to its readers -- which is funny, because it normally has no problem delilghting in the personal peccadilloes of TV correspondents.
In 2011, the MRC reported on NBC correspondent Chris Hansen "caught on hidden camera having an affair with a woman 21 years younger than him" after a sting operation by the National Enquirer (the same folks whose report of affairs by Ted Cruz were dismissed by the MRC). Aubrey Vaughn smugly added: "While there is nothing illegal about Hansen's affair, his being caught by hidden cameras is quite ironic, considering he used the same hidden camera setup to catch unsuspecting predators on his television program during its four-year run."
And when CBS "60 Minutes" correspondent Steve Kroft was caught in an affair, NewsBusters' P.J. Gladnick couldn't get enough. In one post, he salaciously asked to "let us look at the kinky details already revealed which Kroft does not deny," which include "kinky tastes such as drinking champagne ala tush and is an incredible cheapskate."
And in another post, Gladnick chortled about the "karmatic kickback" of being ambushed by a (right-wing) New York Post reporter about the affair (who asked, "How do you live with yourself?"), complete with a "review some of the New York Post highlights (or lowlights) of the scandal." Gladnick called the footage of the ambush "must see video."
Needless to say, the New York Post and the MRC's own ambush guy, Dan Joseph, aren't gearing up to pounce on Henry to ask, "How do you live with yourself?" -- the former because the Post and Fox News have the same owner and would never trash a co-worker, and the latter because MRC employees from Brent Bozell on down love to appear on Fox News and wouldn't dare jeopardize that.
If Henry was still working for CNN, Gladnick and the rest of the MRC crew would be pouncing on his affair and gleefully reporting the even more salacious details emerging. But being a Fox News employee with a history of supplying conservative-friendly talking points earns you a free pass from further embarrassment from the MRC.
Posted by Terry K. at 2:25 PM EDT