MRC Documents Fox News Bias, Won't Use The B-Word To Describe It
Topic: Media Research Center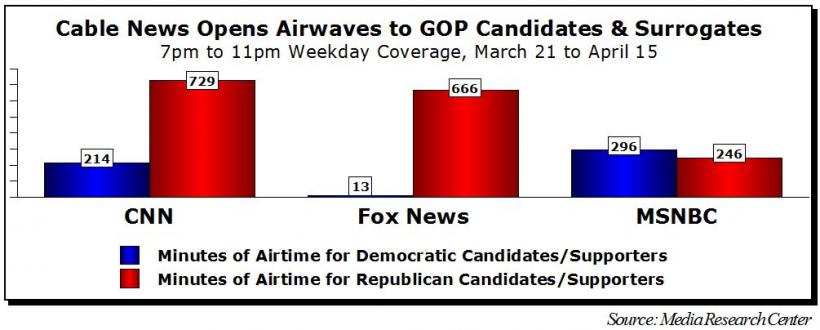 On April 14, the Media Research Center's Kyle Drennen
touted
how Fox News host Megyn Kelly "ripped into her media colleagues for their excessive and skewed coverage of the billionaire's campaign." Of course, as we've
documented
, a lot of that "excessive and skewed coverage" of Trump appears on Fox News itself. But, hey, Kelly typically gets a free pass from the MRC, even as she
laughably denies
that Fox News is biased.
Now, the MRC has finally gathered evidence of Fox News' pro-Trump and anti-Democrat bias. But, even more laughably, it won't say the B-word.
Perhaps tired of us pointing out that the MRC's political coverage analyses have focused almost exclusively on the broadcast networks seemingly to avoid having to document bias at Fox News, the MRC has at last gotten around to analyzing cable news coverage of the 2016 peridential election.
An April 18 NewsBusters post by Rich Noyes and Mike Ciandella admits the obvious:
Our study found that FNC spent much more time interviewing Trump and his surrogates than either of his GOP competitors. Over the past four weeks, Trump was interviewed for a total of 178 minutes on Fox, vs. 106 minutes on CNN and 43 minutes on MSNBC. (Interviews includes network-sponsored town halls as well as sit-downs with a network host, but not debates or live coverage of rallies or speeches.)

[...]

Adding in the airtime for campaign surrogates (family members, campaign staff, or designated surrogates), Trump's tally grows to 397 minutes on Fox, or nearly 60 percent of the total, compared to 164 minutes (25%) for Cruz and 105 minutes (16%) for Kasich.
We don't know why the MRC excluded rallies and speeches from candidate coverage, even though they star the candidate. Perhaps that would have made the Fox News numbers even more skewed for Trump.
Interestingly, Noyes and Ciandella refuse to use the word "bias" in describing Fox News' hlighly skewed coverage of Trump, though the post given the "Bias by the Minute" taxonomy.
The next day, Noyes and Ciandella highlighted an even more stark example of Fox News' bias, noting that while "the three main Republican candidates (Trump, Texas Senator Ted Cruz, and Ohio Governor John Kasich) and their surrogates were interviewed for a total of 666 minutes on the Fox News Channel during this period ... neither former Secretary of State Hillary Clinton nor Vermont Senator Bernie Sanders gave any interviews to any of FNC's prime time programs during the four weeks we examined, and their surrogates appeared for a total of only 13 minutes — a greater than 50-to-1 disparity."
Noyes and Ciandella given excuse and justify Fox News' clear anti-Democrat bias:
What's the reason? Since 2007, Democratic presidential candidates have generally boycotted Fox News, refusing to let the top-rated cable network host any of their presidential debates. Earlier this year, Fox News anchor Bret Baier pressed DNC chairman Debbie Wasserman Schultz about "letting the Fox News debate team handle" one of the then-upcoming debates; Schultz demurred.

At the same time, FNC's core audience is decidedly right-of-center. A 2012 Pew Research Center survey of the Fox News audience found conservatives outnumbered liberals by a 6-to-1 margin (60% to 10%), while on shows such as Hannity the gap was a whopping 78 to 5 percent. So FNC may have concluded — not unreasonably — that its audience is more interested in hearing from the GOP candidates and their surrogates than the Democrats.
Those aren't excuses the MRC are likely to grant to the "liberal media" for their allegedly biased coverage. And, again, at no point do Noyes and Ciandella use the word "bias" to describe Fox News' clearly biased coverage.
As we've noted, the MRC has a vested interest in not being more explicit in pointing out Fox News' media bias -- its officials appear regularly on its air, something that would likely stop if the MRC actually held the channel to account.
You can bet that if Kelly or any other Fox News host denies the channel is biased, the MRC will ignore its own research and continue to give them a pass.
Posted by Terry K. at 2:32 PM EDT
Updated: Wednesday, April 20, 2016 3:08 PM EDT