Ex-MRCer Avoids Critics In Plugging New Climate Change Denial Film, And MRC's Bozell Plays Along
Topic: Media Research Center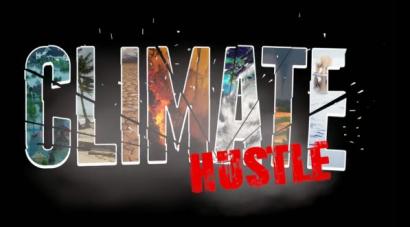 An April 15 NewsBusters post touts how "MRC President and Founder L. Brent Bozell moderated an invitation-only panel discussion on the subject featuring former Gov. Sarah Palin, R-Alaska, climatologist Dr. David Legates and Climate Depot's Marc Morano, host of a new documentary from CFACT: Climate Hustle."
Legates is a climate-change denier like the rest, meaning that everyone involved in the "panel discussion" holds basically the same opinion -- which makes it not much of a discussion at all.
But also note that term appearing before "panel discussion": "invitation-only." It appears that if you held a different opinion on climate change from Morano, Bozell and the others (only one of whom has any actual background in climate science), you apparently weren't even allowed in the room.
That refusal to engage with critics, perhaps not surprisingly, has been a hallmark of Morano's promotion of his little film, as well as Morano and CFACT's apparent lying to continue to refuse engagement. Graham Readfearn writes at DeSmog about trying (and failing) to gain admission to the Paris premiere of the film:
I had previously asked a French group helping to organise the premiere, Institut Coppet, for a ticket. They had accepted my RSVP, but a few days later said I wasn't welcome. Other reporters at DeSmog and at the Irish Times had a similar experience of having a 'yes' turn to a 'no' days later.

Morano has told sympathetic media since the premiere that there were "hundreds" of people queuing down the street and that they had to turn people away. But one person who watched the Paris premiere, but asked not to be named, told me the cinema was "half empty" during the screening. An estimated 100 people had been inside for the cocktail reception, the source said. Another attendee told DeSmog after the film let out that the theatre was at best 70 percent full.

Those being "turned away" it seems were those most likely to criticise the film's content.

Morano also told me he would be at the Paris conference later that week, but complained that "we only have two passes for our organisation" — continuing a theme that denialists were being shut out.

According to a list of Paris conference participants, the UN actually granted passes to six representatives from CFACT. Three (Morano and his CFACT colleagues Craig Rucker and David Rothbard) were accredited with a CFACT delegation and three more were listed as CFACT representatives in a ten-strong delegation from the Competitive Enterprise Institute, another conservative think tank that pushes climate science denial.
We're guessing that Bozell and his one-sided "panel discussion" didn't mention that Morano refused a bet with Bill Nye (the science guy) on whether 2016 would be one of the ten hottest years on record and that the current decade would be the hottest on record... because he admits it's "obvious" the official records would show more global warming.
CNS' Barbara Hollingsworth did a "news" article on the "panel discussion, which ironbically quotes Legates saying, "If you can't argue the facts, you have to demonize your opponent." Or, you know, ignore them completely.
Oddly, while the NewsBusters post disclosed that Morano used to be a reporter for CNS -- where he used his final days there to audition for his future career as a professional climate change denier, first as a PR flak for Republican Sen. James Inhofe and then for CFACT -- Hollingsworth's CNS article did not, though CNS was the MRC division where he actually worked.
Posted by Terry K. at 5:20 PM EDT