CNS Mocks Report On Climate Change With The Day's (Completely Unrelated) Weather
Topic: CNSNews.com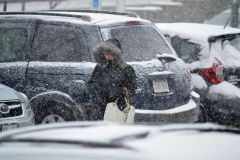 Climate change deniers tend to believe that any bit of cold weather somehow debunks the reality of climate change. It doesn't, but it's gotten to the point that Fox News only discusses climate change when it's cold.
The fact that weather is not climate isn't going to stop CNSNews.com from suggesting otherwise. For instance, this April 4 article by Barbara Hollingsworth:
The White House published a report Monday warning that "extreme heat can be expected to cause an increase in the number of premature deaths"--the same day the National Weather Service issued winter weather advisories for April snowstorms.

"From children to the elderly, every American is vulnerable to the health impacts associated with climate change, now and in the future," said administration's report.

It was released by EPA Administrator Gina McCarthy, Surgeon General Vivek Murthy and John Holdren, head of the White House Office of Science and Technology Policy, the same day the National Weather Service predicted "another round of wintry precipitation" for the Upper Midwest and Great Lakes region that could dump up to 10 inches of snow on upstate New York.

Southern New England also remained under a Winter Weather Advisory until 8 pm on Monday with sub-freezing temperatures and up to six inches of snow predicted for some areas.

Another April snowstorm with 60 mph winds slammed into Massachusetts on Sunday, killing two people and downing power lines for tens of thousands of residents.
See what she did there? Juxtaposing a discussion of a heating climate with the day's weather in southern New England, a very tiny area of the earth.
That's ConWeb logic for you.
Posted by Terry K. at 6:39 PM EDT