WND Treats Disgraced, Philandering Adulterer As A Credible Expert on Islam
Topic: WorldNetDaily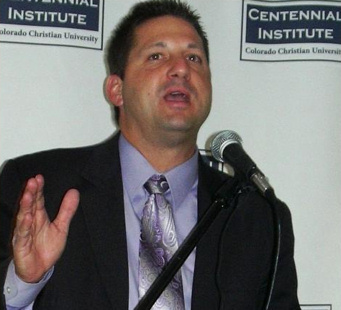 You might remember John Guandolo as the former FBI agent who's better known as a serial philanderer and adulterer who jeopardized a federal investigation by having sex with a witness and trying to get her to donate money to a right-wing "anti-terrorism" organization. But according to WorldNetDaily, he's a steller expert on Islam whose past transgressions are not to be spoken of.
Well, Guandolo is back, and WND is still censoring his past.
In a March 24 WND article, Leo Hohmann touts Guandolo as "a former Marine and instructor at the U.S. Army War College who now provides training to law enforcement agencies that want to learn more about the jihadist network in the U.S." Not only does Hohmann fail to make an effort to provide an alternative viewpoint -- thus violating WND editor Joseph Farah's purported insistence that his reporters are "required to seek out multiple sources and contrary viewpoints in news articles" -- he doesn't disclose Guandolo's disgraceful past,. After all, that clearly runs counter to anything a "former Marine" would do and would undermine Guandolo's already shaky credibility.
Hohmann followed up with an April 3 article in which he again features Guandolo, describing him this time as "a former FBI counter-terrorism agent specializing in Quranic-inspired violence," adding that "After leaving the FBI Guandolo formed Understanding the Threat, an organization that teaches the tenets of Islam to law enforcement agencies." Hohmann doesn't mention that Guandolo left the FBI in disgrace after jeopardizing an investigation with his sleazy behavior.
(Oh, and as Right Wing Watch notes, the study Hohmann and Guandolo promote claiming that 80 percent of mosques in the U.S. promote radical beliefs is completely bogus.)
So, it seems that not only does WND not enforce its claimed standards on reporters, it has no standards whatsoever for the ethical behavior of its sources.
Posted by Terry K. at 10:10 AM EDT
Updated: Saturday, April 9, 2016 10:33 AM EDT