AIM's Kincaid Promotes Discredited Vaccine-Autism Link
Topic: Accuracy in Media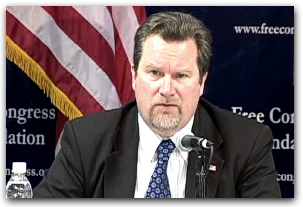 Accuracy in Media's Cliff Kincaid has been an anti-vaxxer for a while, pushing the discredited idea that vaccines cause autism. He has insisted that "the science is not settled" on the subject, and he's touted the anti-vaxxers at the National Vaccine Information Center as credible spokespeople when they simply want to fearmonger.
Kincaid begins his April 4 column by needlessly making things political, ranting that "liberals and the left-wingers who come down on the side of the drug companies, known as Big Pharma. They want government to force parents to have their infants injected with potentially dangerous vaccines that may be linked to the developmental disorder known as autism."
Kincaid then promotes former NBC executive Bob Wright, who has a new book out that touches on the subject. Kincaid notes that Wright founded the autism advocacy group Autism Speaks, but not that the group has taken the position that "Vaccines do not cause autism" (though that position statement is accompanied by a more ambiguous one by Wright insisting that "Scientific research has not directly connected autism to vaccines").
Kincaid then opromoted the film "VAXXED: From Cover-up to Catastrophe," which he benignly called "a documentary about the possible link between vaccines and autism that is based largely on the work of a CDC whistleblower." Actually, the film is made by Andrew Wakefield, a now-defrocked doctor whose 1998 study claiming to link vaccines to autism has been retracted by the medical journal that published it and has been called a fraud.
Kincaid then credulously writes this:
Dr. Stephanie Seneff, a research scientist from the Massachusetts Institute of Technology (MIT), says in the trailer for the film that if present trends continue, by 2032 half of the children—and 80 percent of the boys—will be autistic. She says, "This will be a complete catastrophe if we just let it happen."
That's complete and utter bull. In fact, the autism rate among children has leveled off at 1 in 68, and increasing diagnosis rates in previous years likely had much to do with a "learning curve" among doctors when it came to properly diagnosing autism spectrum disorders.
Meanwhile, Kincaid howls that "vaccines have led to the dramatic increase in autism" and rants that vaccines "have become a cash cow for Big Pharma. There is a vested financial interest in increasing the number of vaccines, and making them mandatory at earlier ages." Perhaps Kincaid should disclose what his vested financial interests are in perpetuating a falsehood.
Posted by Terry K. at 12:23 AM EDT