MRC: It's Not Biased For Fox To Ask Cruz About Sex Scandal, But It Is Bias For ABC To Play Fox Clip Of It
Topic: Media Research Center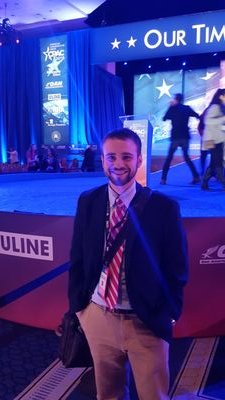 Curtis Houck huffs in an April 4 MRC NewsBusters item:
On the night before voters in Wisconsin go to the polls for the presidential primary, ABC's World News Tonight found it worthwhile to spend nearly its entire time allotted for Ted Cruz rehashing the unsubstantiated smears from the National Enquirer tabloid about extramarital affairs.

All told, the networks wasted 55 seconds (out of the one minute and 16 seconds spent on Cruz) working to help resurrect the story in light of Megyn Kelly's brief exchange with Cruz in a taped town hall that will air as an hour-long special on the Fox News Channel.

Anchor David Muir led into Republican campaign correspondent Tom Llamas's report by harping on Trump being "in damage control" after his abortion comments last week and an interview one of Trump's ex-wives recently gave before proclaiming: "Ted Cruz this evening, asked by Megyn Kelly, 'have you committed adultery?'"
Wait a minute. Houck is not criticizing Megyn Kelly and Fox News for asking Cruz about about the "unsubstantiated smears" regarding Cruz, but he's accusing ABC for being biased for playing a clip of the Fox News segment? Yep.
How is this not a blatant double standard? Well, Houck has a pretty lame explanation that exonderates Fox News:
At the end of the day, it's one matter for Kelly to spend a small amount of time alluding to the smear since she had an hour to speak with Cruz, but it's another for a network newscast with only a handful of minutes to summarize the day's news and harping on something that hasn't been corroborated.
So, let us get this straight: It's not bias for Fox to focus on the Cruz scandal becsause it was a "small amount" of a larger interview, but it's bias for ABC to do so because it has "only a handful of minutes to summarize the day's news."
That's "media research" at the MRC, folks.
Posted by Terry K. at 8:40 PM EDT